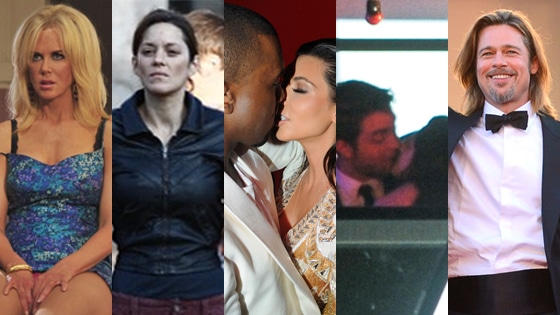 Sun? Check. Sea? Yep. Movie stars? Bring it. Wonky camel rides with dictators? Load 'er up!
The 65th Cannes Film Festival comes to a close this weekend, capping two weeks of red-carpet glam and gonzo publicity stunts from a star-studded roster of A-listers.
Oh, yeah: There were also movies. Lots of them, giving us our first glimpse at the prestige projects and awards hopefuls hoping to make a dent in the run-up to next year's awards derbys.
So what pearls of wisdom did we glean from this year's Riviera bonanza?
1. To Pee or Not To Pee, That Is the Question: Several films generated heaps of controversy at Cannes, though none made a splash—literally!—like The Paperboy. The death-row drama, starring Matthew McConaughey, Zac Efron and Nicole Kidman, became the talk of the fest for an infamous scene in which Kidman's femme fatale pees all over Efron's character. Other films that scored notoriety were the presciently titled The Anti-Semite, which was banned following cries of anti-Semitism over its satirical depiction of the Auschwitz concentration camp, along with the well-received Reality, whose Italian star, Aniello Arena, has been serving a life sentence for murder but was released from jail for a day to shoot the movie. Critics have also accused the fest of sexism, noting that not one of the 22 films in competition was directed by a woman.
Roger Arpajou/Why Not Productions
2. Let the Awards Buzz Begin! If you thought that Marion Cotillard's 2008 Best Actress Oscar for La Vie en Rose was a fluke, then let us please direct your attention to Rust and Bone. The French beauty has stirred up early Oscar talk for her performance as a whale trainer at a marine theme park who loses her legs during a freak orca attack, but finds healing and redemption with the help of a downtrodden boxer. Also earning kudos was the Michael Haneke-directed Amour, about two octogenarians whose daughter suffers a stroke, as well as Wes Anderson's summer-camp romance, Moonrise Kingdom, which has earned some of the best reviews of his career. Brad Pitt's brutal gangster drama Killing Them Softly also won solid raves for his gritty performance as a mob enforcer. And while we're on the topic of Pitt...
3. Brad Pitt Reveals His Wedding Plans—or Lack Thereof—With Angelina Jolie: Don't wait with bated breath for deets on the betrothed super-couple's eagerly anticipated nuptials. While chatting with reporters, Pitt let loose that they don't have a wedding date set, adding, "We're still hoping we figure out marriage equality in the States before then." He also revealed that he has no plans to pursue a directing career so he can focus on fatherhood. Curse you, Monsieur Pitt: sexy, successful and devoted family man!
4. Is This a Film Festival or a Honeymoon? The French Riviera turned out to be the perfect spot for two couples to pack on the PDA. Kim Kardashian and Kanye West took the Croisette by storm and, in a rare moment, were snapped getting kissy at the after-party celebrating the premiere of his new film, Cruel Summer. Meanwhile, reluctant twosome Kristen Stewart and Robert Pattinson finally silenced all doubters after they were snapped locking lips at the after-party for her Cannes flick, On the Road.
Andreas Rentz/Getty Images
5. Rumor Patrol—Couples Edition: Speaking of hookups, several couples got tongues wagging with talk of engagements, elopements and reunions. Joshua Jackson and Diane Kruger fueled rumors of an engagement when he bought a $45,000 necklace at auction and was overheard saying he was looking for the "perfect engagement gift." (Kruger's rep denies the rumor.) Meanwhile, speculation ran rampant that Alec Baldwin and fiancée Hilaria Thomas were planning to hightail it after the fest and elope in Europe. (Baldwin's rep declined to comment.) Then there's onetime couple Sean Penn and Petra Nemcova, who each recently broke up with their respective significant others and were spotted getting cozy together at dinner. Hmmm...