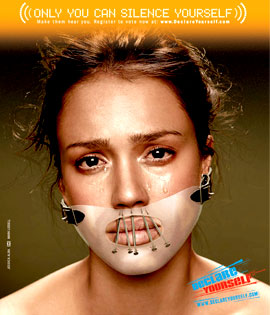 declareyourself.com
Jessica Alba sure knows how to get our attention.
Following a Declare Yourself PSA released earlier this month in which she appeared bound by black electrical tape, the 27-year-old starlet is now shown with her mouth closed by a plastic muzzle and metal nails. Her hair is sloppy, her face barely touched with makeup, and she has tears running down her cheeks.
The public service announcement, shot by celebrity photographer Mark Liddell, aims to motivate young people to register and vote.
"Only you can silence yourself," reads the tagline. "Make them hear you. Register to vote now."