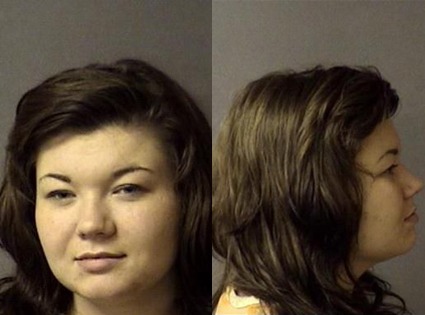 Amber Portwood returned to jail—again—on Thursday. The Teen Mom star was booked on two contempt-of-court charges, and as her brother Shawn Portwood told E! News, "Amber finally had enough."
Now E! News has learned that the 22-year-old is choosing to serve out her five-year jail term rather than comply with the terms of her court-ordered drug program.
However, even though her sentence is five years, if Portwood behaves in jail she will likely only have to do half that time because of good time credits.
Fellow Teen Mom star Jenelle Evans tweeted to Portwood's ex-boyfriend, Gary Shirley, Friday: "@ItsGaryTime dont stress it Gary about amber. No offense but that was ambers choice not wanting to get clean and she could of done it. I did"
Shirley also wrote Friday: "yeah just a really bad day so the good part about that tomr has a chance to be great."
Amber was placed back behind bars earlier this month for failing to appear in an Indiana court as part of the terms of her probation. (Her probation stemmed from her December 2011 arrest for drug possession.) She was released last Thursday, only to return to jail one week later.
Last week she told E! News she was "OK. Just hustling. I've got a lot on my plate."
Her brother Shawn told us he thinks "the system failed her, and that's all I can say."
"She does not deserve to be [in jail] or anything that has happened to her," he added. "She is there because of who she is."
The final season of Teen Mom premieres June 12 at 10 p.m. on MTV.