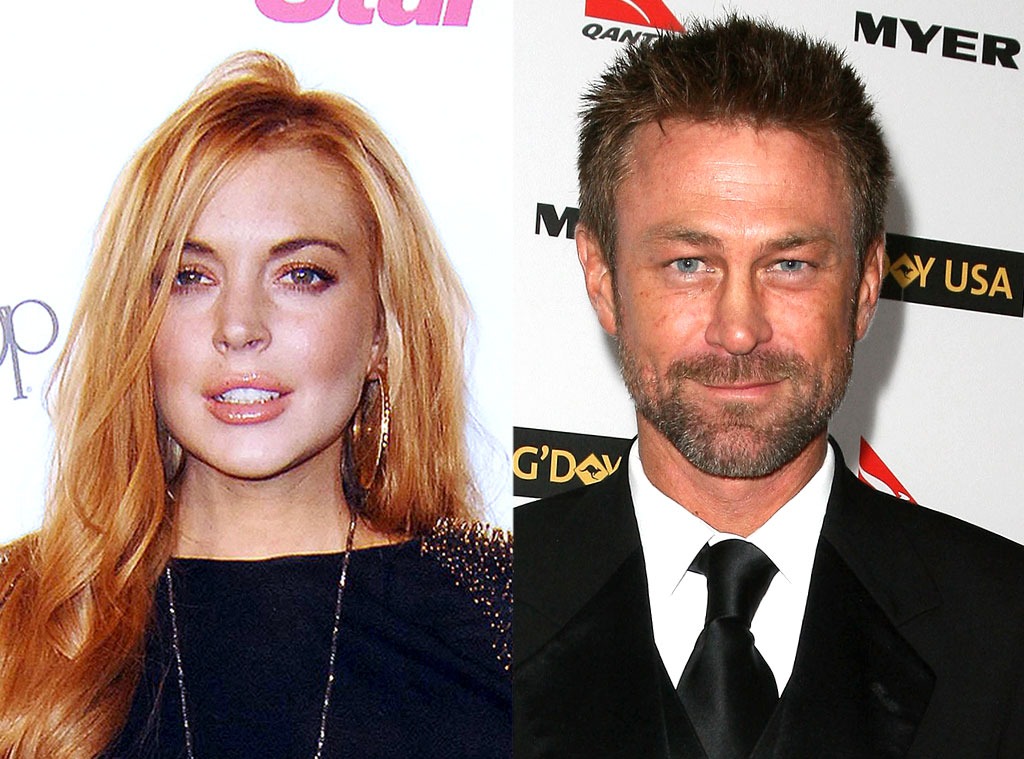 David Crotty/PatrickMcMullan.com/Sipa USA; Valerie Macon/Getty Images
It's official! Lindsay Lohan has finally found a Dick for her Liz—and it comes in the form of True Blood hunk Grant Bowler, E! News has confirmed.
As you Elizabeth Taylor fans already know, Linds is scheduled to play the Hollywood icon in the Lifetime movie Liz & Dick, which chronicles Elizabeth's fiery marriage with her fourth (and fifth) husband Richard Burton (that'd be Bowler).
So what's the latest with Lindsay insurance policy now that casting's complete? Exactly how much sex can we expect and uh, what's up with that casual 18-year age difference between LiLo and Grant?!
Cue the sexually-charged Lindsanity, folks, because according to producer Larry Thompson, there's going to be a whole lotta steamy scenes bound for your boob tube viewing pleasure.
"We had seen him [Bowler] on tape and liked him but wanted to confirm the chemistry between the two. But this morning we had Lindsay and Grant come into a room at Lifetime and the chemistry exploded," Thompson said exclusively to E! News. "It was just Fourth of July firecrackers going off in the room. We knew from the chemistry that Liz and Dick live again."
Sounds très exciting, no? We're certainly enticed and we can't wait to see Linds take on a sexy role—ya know, outside of the pages of Playboy:
"Chemistry means movie magic for sex," Thompson revealed of his two stars. "This movie will definitely have as much sex as Lifetime will allow."
Well, cheers to that! But it is a tad bit interesting that their par-tick chemistry is just so palpable (not that we're complaining)—the two do have an 18-year age difference.
But, according to Thompson, that's perfectly on-point for the flick:
"Richard Burton was quite older than Elizabeth Taylor. This is from a visual point of view just about equal to Liz and Dick. Visually speaking it is a perfect match."
And from the pic we're feasting our eyes upon, it does look like a pretty spot-on pairing. And let's just say we're not going to mind when the abtastic Bowler goes shirtless for all those steamy scenes—he previously played a hunky werewolf named Cooter in True Blood season three!
As for any future Lindsay hiccups (especially after those nasty casting rumors), Thompson seems as confident as ever, at least in regards to LiLo's insurance:
"That is all done. There are no problems," Thompson said of Lindsay's insurance policy (remember, Thompson also said she's the "most insured actress that every walked").
Whew! Glad that's taken care of, so we can talk those steamy screen test deets:
Linds and Grant met for the first time today at 11 a.m. in Century City (in person, at least, since Linds is a huge True Blood fan!) and although there was already a contract in place, Lindsay and Grant's chemistry cemented the deal:
"They read three separate scenes from the movie. Their chairs were initially a bit apart but each scene they brought chairs closer. Arms brushed together. The scene didn't require kissing," Thompson detailed.  "He [Bowler] brings enormous testosterone and sensitivity."
Well since testosterone and sensitivity are two of our fave traits, we can't wait to see Bowler explode as Burton on the boob tube.
"Lindsay is excited to start filming," Lohan's rep told us, which begins in just ten days (June 4). So with that, we'll give Thompson the last word:
"Boy am I relieved!"
Uh, so are we. Now, sound off in the comments with your thoughts on Bowler's casting!