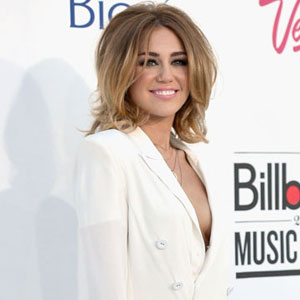 Frazer Harrison/Getty Images via ABC
It's been quite the week in the world of Miley Cyrus, and we're eagerly waiting for the babe's next controversial move (in her signature "Can't Be Tamed" style, of course).
And there's no denying the former Hannah Montana star's latest wardrobe malfunction coupled with her Thursday appearance on Lifetime's The Conversation With Amanda de Cadenet where she said "sex is a beautiful thing" has a lot of people hot and bothered.
So, has the 19-year-old starlet, who first appeared on Hannah Montana at the ripe age of 12, finally gone too far considering her young fan base?
No. At least if you're giving Miles the last word:
"I feel I was so trained in my interviews to be All-American or whatever. I just got so set in the way of saying the same things I did when I was 12-years-old," she told Amanda de Cadenet of her start on the Disney show. "I guess I kind of realized that my whole life isn't one giant press junket."
True, Miley's life is certainly not a press junket, but she is constantly featured in the press—and not always for the best reasons. Whether it's dishing out sex advice, sporting a scandalous outfit or slamming down nasty anorexia rumors, it seems tabloids are far more interested in Miley's oft-controversial antics than any of her career decisions.
And some critics are extremely upset with the spotlight on the singer's personal life. The Culture and Media Institute even said Miley has "become the epitome of the anti-role model for young girls" after she displayed her affinity for penis cakes at BF Liam Hemsworth's birthday bash.
But seriously, is that really fair to say?
There's no denying the gal loves to show off her bod and she's not afraid to take about sex, but there have been no DUIs, drug busts, or rehab stints for the star. And, uh, sorry to say, but after years in the Biz and growing up in the public eye, that has to deserve at least a little cred, right?
Still, some insist her latest antics have taken things one step too far, but don't expect the teen queen to change her ways anytime soon.
"People are so scared of seeing a woman being like, 'This is who I am and you're not going to change it,'" she fessed on The Conversation.
So with that, let's hear it for side boob, sex and going sans pants! Hey, she's just being Miley, right?
Awful's Can't Be Tamed Poll!