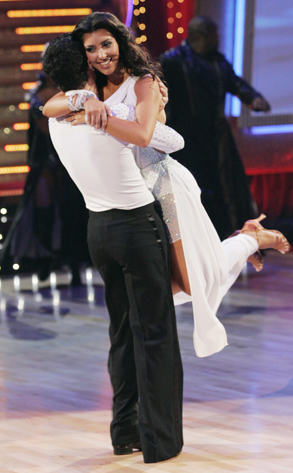 ABC
Wow. We certainly didn't see that coming. And neither did you.
Despite everyone and their mother predicting that trucker-mouthed Cloris Leachman or stiff-as-a-board Rocco DiSpirito would get the ax, Dancing With the Stars kicked off someone rather unexpected tonight: bootylicious E! reality star Kim Kardashian.
Only we have the breaking details right now, plus word from Kim herself and her famous family...
Kim Kardashian (star of E!'s Keeping Up With the Kardashians) got the boot tonight in what can only be called a surprising twist, given that all signs were pointing toward the dismissal of Cloris—who received last night's lowest score of 15. (Even our expert oddsmaker and you, the fans, predicted it would be Cloris earlier today.)
Tonight's send-off was most definitely a family affair: Kim and her partner Mark Ballas were up against Cloris and her partner, Corky, who is Mark Ballas' father. And at the end, Kim took the news like a champ, mentioning it was the fifth anniversary of her own father's death, and she was sure he'd be proud of her.
"This was a huge challenge for me," Kim tells us tonight. "Every dance was a huge accomplishment for me, and I did the best I could. And this was the best experience of my life."
Kim also tells us that saying goodbye is "very emotional" but is "totally fine" and wants to take dancing lessons with Karina in the future so she can learn more. As for her partner and new friend Mark, "He just signed a record deal, so I'm going to become a groupie for him!"
Meanwhile, the support from Kim's family (and Keeping Up costars) is pouring in. "I am so proud of how hard Kim has worked!" sister Khloe Kardashian tells us exclusively. "She has completely gone out of her comfort zone by doing DWTS, and I am so happy she did. She made the show, in my opinion!"
Stepfather Bruce Jenner also is sending the love: "I am very proud of her. She had a lot of guts to say yes to do this show with no dance background at all. Success is not measured by heights attained, but by obstacles overcome."
And Kim's mother, Kris, has this to say: "I am sad Kim was voted off tonight but so thrilled she was able to experience another fantastic and amazing journey that took her way outside her comfort zone. I am very, very proud!"
Echoes sister Kourtney: "I admire Kim's strength and the hard work that she put into DWTS. It takes a lot of courage...especially with no experience."
DWTS host and E! News correspondent Samantha Harris tells us the mood on set was somber as the cast and crew said goodbye. "Everyone told me that getting to know her outside of the tabloids and the reality show has been so refreshing, since Kim is such a sweetheart. I feel the same way."
Clearly, signing on to DWTS with no prior experience is no cakewalk, and Kim admitted in her blog that the pressures of the show did get to her: "To be honest last week, I cried so hard when I got home, just knowing this is SO hard for me and I really am trying—but my inner shyness is making it look like I am just not trying. I think I took it way too seriously and I was a nervous wreck on Wednesday."
So chances are, she's also a little relieved.
Also in tonight's show:
Warren Sapp (who we lovingly crowned the show's water diva) got called back to perform a paso doble dressed in a Matrix-looking black duster.
Jessica Simpson performed in what was either a very long belly shirt or a very short dress.
Bruno and Len offered a travelogue of how they jet between continents to do this and the U.K. version of the show. Fancy!
So what do you think of Kim getting the boot? Did she leave before her time? And who are you rooting for now? Comment below...