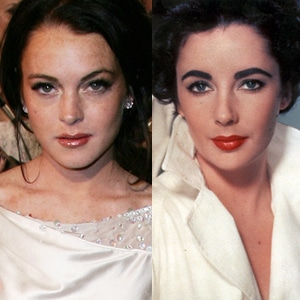 Tony Barson/WireImage; MGM
Lindsay Lohan may be more than ready to step into her role as Elizabeth Taylor, but there's one big problem with production (and it has nothing to do with LiLo's off-set antics).
Although filming for the Elizabeth Taylor Lifetime biopic, Liz & Dick, is set to begin June 4, executive producer Larry Thompson tells E! News that the role of Richard Burton still has not been cast.
So while Lindsay's busy, er, researching the social scene as of late, is Lifetime any closer to landing a Dick for Lindsay's Liz?
"We hope to have someone in place very soon," Thompson says. "We are very close."
Hmm…we're not entirely reassured by his response. After all, the movie chronicles Elizabeth's fiery marriage to Burton, her fourth (and fifth) husband, whom she met on the set of Cleopatra in 1963, so a spot-on Dick is imperative for the movie's success.
What's more? We haven't heard of any casting for the flick thus far, and Lifetime confirms there are "no further updates."
Last time we checked, this is not Lindsay Lohan taking on the Elizabeth Taylor True Hollywood Story (at least we seriously hope not), so decisions need to be made fast if production has any hope of sticking to schedule (we've got four solid suggestions if ya need any help!). 
But even without a Dick by her side, Lind's not letting production setbacks ruin her research—TMZ obtained pics of Lindsay getting in on all the wardrobe action, posing and channeling her inner Liz.
So, with just two weeks until filming is set to begin, is there anyone at the top of Thompson's list?
Uh, we're not entirely sure. Thompson would not specify who, exactly, is a frontrunner for the role, but he did say that the Burton part will be played by someone who complements Lindsay—meaning the chosen actor will most likely not come from a background of tabloid trauma. (One insurance policy is enough, right?).
Still, Thompson insists that the movie is set to begin shooting June 4.
Let's get this casting couch rolling before a total Lindsanity takeover.