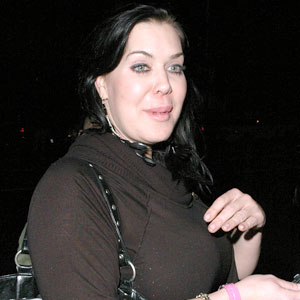 Adrian Varnedoe/Pacificcoastnews.com
Despite reports claiming WWF star Chyna (real name Joan Marie Laurer) was rushed to the hospital today after fainting during the Exxxotica Expo in Miami, she exclusively tells E! News this is not wholly true.
Although Chyna did pass out during her promotion for Vivid Entertainment's Avengers XXX, she was not rushed to the hospital, but instead, her hotel room.
Here are the details...
"I wasn't taken to the hospital, but to my hotel room where I rested a bit," Chyna says. "It's weird because I've been feeling so good lately, almost like She-Hulk, my character in Vivid's Avengers XXX. But then I started to get a cold and feel weary. I think I overdid it with the cold medicine and a glass of wine at lunch today. I feel much better now and intend to go out to the pool."
A rep for the expo also shared the account of what happened with us and confirmed that Chyna will continue to make appearances to promote the film throughout the weekend.
"Chyna was scheduled to sign at the Exxxotica Expo this weekend starting today at the Miami Beach Convention Center. She arrived at Exxxotica shortly before her signing hours for Vivid Entertainment at the Club Spotlight booth and suddenly felt weak and fainted for a short spell," Dan Adams tells us.
"She has been feeling flu-like symptoms and took some over the counter medication to combat this, and possibly mixed it with a beverage during lunch. She was helped to a vehicle at the show and brought back to her hotel to rest—not a hospital as reported by some outlets. We did have a conversation with her a short time ago, and she sounded much better and confirmed she will be signing Saturday and Sunday at Exxxotica and the Club magazine booth."
—Reporting by Marcus Mulick