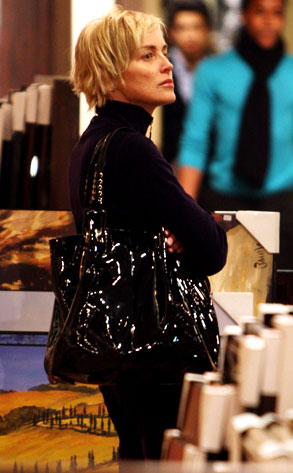 INFphoto.com
According to a judge, Sharon Stone's maternal instincts are quite basic.
In a tentative ruling released Monday and obtained today by E! News, San Francisco County Superior Court Judge Anne-Christine Massullo has shot down Stone's attempt to modify custody of her son Roan.
Stone had sought permission to move Roan from Marin County in Northern California, where he lives with his father, Phil Bronstein, to L.A.
But saying that "should Roan move to Los Angeles, the sense of loss would be overwhelming for him," Massullo nixed the request. Instead, the judge said the boy could visit Stone one to two weekends a month during the school year.
Specifically, Massullo took issue with Stone's mothering prowess and apparent overreaction to the boy's complaints. "Mother alleged Roan had a spinal condition," the judge noted. "There was no evidence to support this allegation."
And this doozy: "Mother suggested that Roan should have Botox injections in his feet to resolve a problem he had with foot odor."
Massullo stated that "unless [Stone's] demands are met, she has simply refused to participate in the counseling process designed entirely to help her son." The judge added, "It does not help that [Stone] and [Bronstein] clearly are unable to put aside their personal feelings toward each other."
Ultimately the judge found that "the record establishes that [Bronstein's] home is a more supportive environment for Roan during the school year."
There was no immediate comment from attorneys for either Stone or Bronstein. Stone's publicist also did not respond to calls.
When Stone and Bronstein were divorcing in 2004, they fought over custody of Roan. Stone told the judge she was Roan's primary caretaker, but Bronstein disputed that fact, saying that from infancy until the couple separated much of Roan's care was "delegated to a series of full-time (24-hour) nannies" and that Stone's involvement with their son was limited.
For a period following their divorce, Stone and Bronstein agreed to alternate custody of Roan, with the boy splitting time between Los Angeles and San Francisco in three-week chunks.
When that routine was deemed too disruptive, Stone and Bronstein agreed that they would alternate custody of Roan every two years.
Bronstein reversed course, however, petitioning the court that "a transition to live with mother in Los Angeles for two years would be detrimental" as Roan was "finally succeeding academically and socially" at his school because of the continuity. Stone opposed Bronstein's request, which led to the current evaluation hearing.