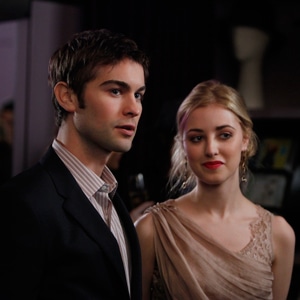 PATRICK HARBRON / THE CW
Gossip Girl is coming to an end.
As fans of the CW series know, the show's upcoming sixth season will be its last.
But as the show's stars gear up to say sayonara to the Upper East Side, could some of them already be planning to reunite for a Gossip Girl movie à la Sex and the City?
"It's funny because I just got that question recently," Gossip Girl's Chace Crawford, who stars in the just-released What to Expect When You're Expecting, told us.
"It had never even crossed my mind so it was like, that's weird," he said. "I don't know if I want that, or do not want that. I don't know what the logistics would be on that. I would imagine it's a long shot. Who knows?"
If it was up to him, Gossip Girl will end with a bang. "Like the end of Die Hard," Crawford said, "just walking away from an exploding helicopter."
Crawford is attached to star alongside Pierce Brosnan as a South African accused of murder in director Bruce Beresford's The House Gun.
"I feel like I could delve into it but I was worried about the accent," the 26-year-old actor said. "It would be really fun. I'm good at impressions. It would take me a minute but I think I could get it down."