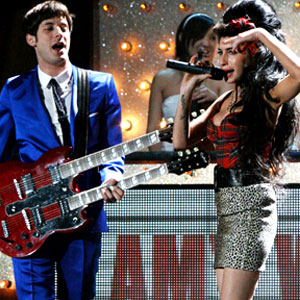 Mark Allan/Getty Images
Mark Ronson is in a less than cheery mood these days.
After telling The Village Voice that Amy Winehouse was "freaked out" by Adele's fast-rising star, the famed English DJ and music producer is now claiming he said no such thing.
"I rarely ever respond to misquotes and wrong information. Plus, it only serves to bring attention to the matter. However in this case, i will not f--king tolerate it," Ronson wrote on his Facebook page.
So what did the paper get so wrong?
In the original Q&A, which was published on May 9, the Voice reporter asked the 36-year-old musician—who coproduced some of the biggest tracks on the late diva's Grammy-winning smash Back to Black—if he had been hoping to work with her again.
Ronson answered, "Yes," then opened up about his view of Winehouse's state of mind before her tragic death last July from alcohol poisoning.
"She was in a bad state, God knows why. I think that the Adele thing had Amy freaked out," he was reported as saying. "She liked her, but Adele's success was making Amy feel upset, competitive, restless. Anyway, we lost touch briefly. And before she and I could really start the process of beginning a new album, it was too late."
More than a week later, a clearly angry Ronson is now accusing the Voice of taking him way out of context and practically making up things he didn't say.
"Some journalist quoted me as saying Amy was "freaked out" by Adele's success," he added in his Facebook post. "I read the interview for the first time just now, and there are so many wrong quotes in there. I can tell the dude was writing whatever he wanted because he uses words and language that i never EVER f--king use in my daily life."
Samantha Ronson's big bro then went on to set the record straight about what he did say.
"At one point, he was grilling me about Amy to the point that I said that Amy was itching to get back in the studio, and the recent success of others that she had blazed a trail for had put the fire in her belly," recalled Ronson. "But that is absolutely it and all these other words are a complete affront to me, her, Adele and anyone who reads this sh-te."
Got that?
"Sorry to get so f--king angry over something that may seem trivial but some wrongs must be righted," he added. "And I have learned my lesson and will no longer answer questions about our girl. Good night and good luck."
A music editor for the Voice could not be reached comment.