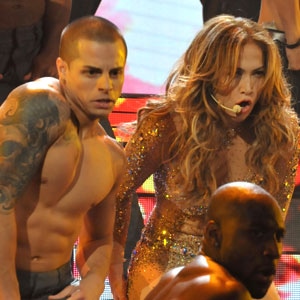 Lester Cohen/WireImage
Could Fox keep Jennifer Lopez around for a third season of American Idol by throwing her lots more money?
Doesn't sound like it.
She reportedly made about $20 million for her second season, but…
Lopez, 42, apparently isn't looking for a pay raise.
"I really don't think it's about money," one source tells me. "Idol is a huge commitment and she doesn't want to be tied down to it."
As I exclusively reported yesterday, the single mom of two has decided not to come back for a third season.
But that doesn't mean we won't be seeing—and hearing—lots from her down the road.
Lopez, sources reveal, is close to announcing the dates for the rest of her world tour…
Lopez and Enrique Iglesias announced last month that will kick off their coheadlining tour in Latin America with U.S. dates throughout the summer.
I'm told European dates will be announced any day now with Paris probably being revealed first.
J. Lo will be overseas until about Christmas time just in time to spend the holidays with family and friends.
Even if she wanted to come back to Fox's hit singing competition show, she'd have a hard time making it to the auditions because she'll be touring out of the country during the nationwide tryouts.
A rep for Lopez has declined to comment on her possible departure.
Fox execs have also not commented. Reporters at last night's Idol were warned that they would be shut down if they asked any of the contestants about it during their customary post-show interviews.