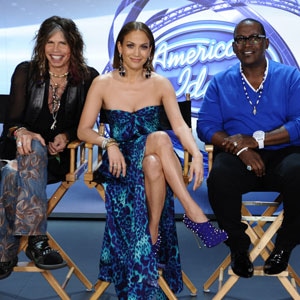 Michael Becker / FOX
Jennifer Lopez may have just been named by Forbes magazine today as the most powerful celebrity, but her reign at American Idol is coming to an end.
While J.Lo has publicly said she has yet to make a decision about her future on Idol, sources exclusively tell me that she she's planning on calling it quits.
"She's just too busy," one source said.
That's so very true.
She's about to launch a mega concert tour with Enrique Iglesias that kicks off this summer in Latin America and the  U.S. She plans to go worldwide in the fall.
I'm told Lopez, 42, will be on the road, at the very least, through the end of the year.
The next round of Idol auditions will begin while she's overseas.
The superstar apparently wants to free up her schedule next year, possibly taking a little hiatus from work to be with her kids.
"It is just like any working mom's dilemma," Lopez told us at Monday's premiere of What to Expect When You're Expecting. "It's tough. It's a balancing act. You put them first and then you have all these other things that you have to do, that you have to give your time to as well, and you have to make sure that they're OK in the process."
Fox declined to comment on Lopez's future with the show. Meanwhile, a source close to the production tells E! News that "Fox does not want to let her go. They love her."
Lopez has been on Idol for two seasons with one-year contracts for both. She went home with $12 million the first time around with a nice raise to $20 million for this season.
Now the question is, will Fox try to change Lopez's mind with a much bigger payday?