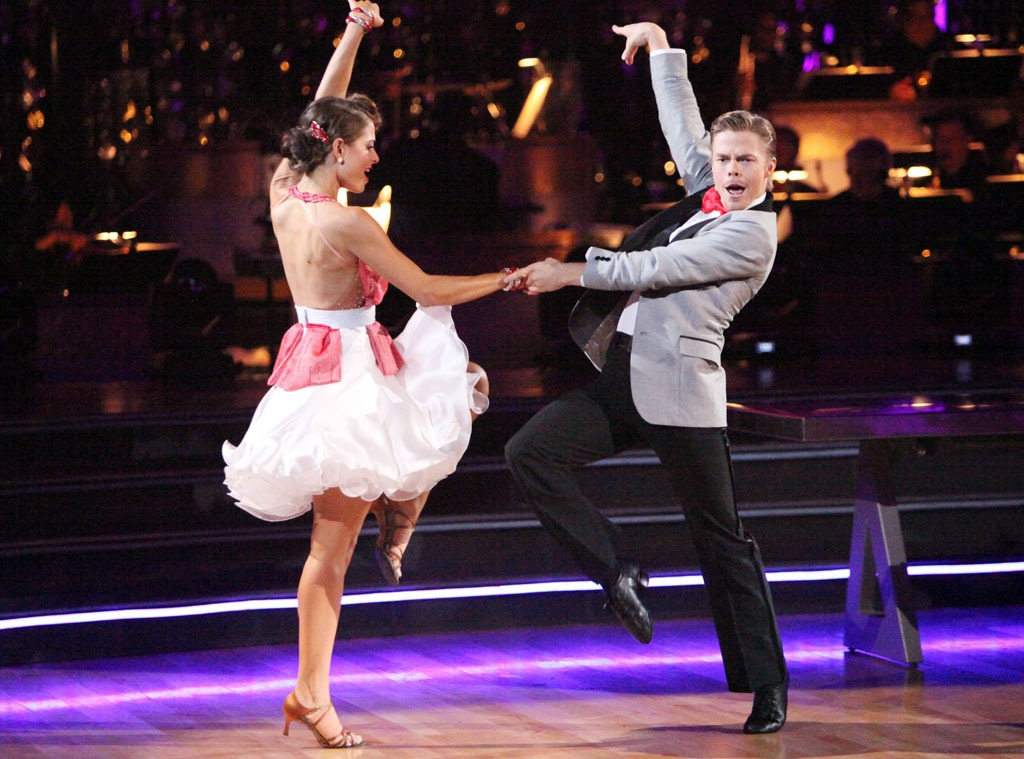 ABC/ADAM TAYLOR
And then there were three.
Dancing With the Stars whittled the intense competition for the mirror-ball trophy down to the final three couples tonight, eliminating a fan favorite (and truly talented) celeb hoofer in the process!
We caught up with the eliminated couple after the show to talk about their shocking elimination so close to the finale! Plus, who was kissing? And what does Peta Murgatroyd have to say about those pesky rumors that she's dating Maksim Chemrkovskiy?!
Maria Menounos and Derek Hough were the couple to say goodbye to the ballroom tonight, but don't expect any regrets from the TV host!
"I feel like I accomplished everything I set out to accomplish," she tells us. "I danced every single dance there was."
Many people were surprised by Maria and Derek's elimination considering they were at the top of the leaderboard after last night's performance show, earning a near-perfect score of 59. However, Maria reveals her partner knew their journey was coming to an end. "Derek did prepare me earlier today," she says. "I'm not gonna lie. He said, 'I have a feeling we're going home tonight.'"
Derek isn't too bummed about coming in fourth. In fact, he actually prefers it! "I always say this: There's two places to come, first or fourth, because second and third really suck. Coming thisclose and not getting it? That bites. Everybody comes back in the finals anyway, so semifinals is a really place to come besides winning."
All season long there's been speculation about Maria and Derek's sizzling chemistry extending beyond the dance floor. So what did the duo, who shared a steamy kiss during a past performance, have to say for themselves? "We're going to keep kissing!" Maria tells us, before planting a smooch on Derek's lips before our very eyes!
Speaking of romance rumors on the show, we have some bad news for DWTS viewers hoping that rumors of a blossoming romance between pros Peta and Maksim were true.
"It's false. We're very good friends and that's how it is," Peta says. "He's awesome. He's a great friend and we hang out, we go to dinners, we're with a big group of people, but that's as far as it goes."
Someone who is admitting their love for Peta? Partner Donald Driver! Of making it to the finale, he tells us, "I'm very happy...for Peta more than anything else because this is the opportunity for her to show she's the best dancer on Dancing With the Stars, and I'm glad I'm part of it. I love her to death." All together now: Awww!
Katherine Jenkins was "convinced" she was going home tonight after suffering a back injury that left her in tears last night. So how is the opera singer feeling now?
"I'm OK. I'm trying not to think about it anymore because we have a lot of work to do next week, so we will get through it!" Katherine assures us. "I'm dealing with it. Patches and things, but it's going to be fine."
As for the just-announced all-star edition of Dancing With the Stars set to happen next season? Mark Ballas already has some celebrities he'd like to see return: "Sabrina Bryan, Kristi Yamaguchi, Shawn Johnson, Chelsea Kane, Hines [Ward], Gilles [Marini], Melissa Rycroft, J.R. [Martinez], Apolo [Anton Ohno], Helio Castroneves, that'd be good!"
"I'd totally do this again in a heartbeat!" Katherine says after Mark leaves her off his list! Oops!
Were you sad to see Maria and Derek go? Do you think they're dating? Who would you like to see come back for the all-stars season? Sound off in the comments!