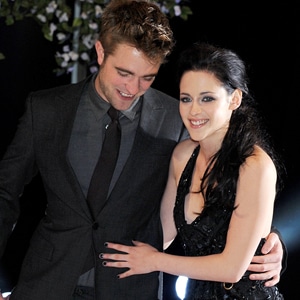 Dave M. Benett/Getty Images
Ah, all good things to those who wait.
We've gotten the Coachella sightings, the Paris rendezvous, the sweet PDAs. But despite all the beyond-obvious tip-offs, Twilight twosome Robert Pattinson and Kristen Stewart have never publicly admitted their romantic relationship.
Well, that's finally changed.
In the latest issue of Elle, Stewart 'fesses up about her romance with Pattinson in a very, um, colorful way...
During the interview, K.Stew walks around a bookstore when she sees a copy of the Guy de Maupassant novel Bel Ami.
"Oh my God, my f--king boyfriend just did this movie!," exclaims the famously potty-mouthed star. "The French, they're up in arms that he did it."
Of course, Pattinson headlines the upcoming big-screen update of Bel Ami, which hits theaters on June 8. So there.
Now, you can argue that there are other male costars in Bel Ami, like...Colm Meany. Or Pip Torrens. Or...nah, this is pretty much case closed.
This isn't the first time the star has slipped up about her personal life.
During an interview with GQ last year, the Snow White and the Huntsman star, who spent time shooting that film on location in southwest England, admitted that she wanted to see more of the U.K. because "my boyfriend is English."
Stewart quickly downplayed things by adding that she "never would have said that" if she knew she was actually being interviewed, but later copped that "so much of my life is so easily googled. I mean, it's like, come on guys, it's so obvious!"
Right on about that, sister!
Let's see how much longer the two can remain mum about their relationship when they both hit the Cannes Film Festival this week, where they each have films in competition.