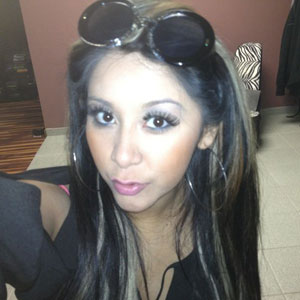 Twitter
She's no Kim Kardashian tanorexic mom, but we all know Jersey Shore star Snooki loves her tanning.
But even she knows to cool while she's pregnant.
In fact…
The Jersey Shore star, 24, hasn't tanned since—ready for this?—last August!
While a new photo she tweeted over the weekend shows her not as Cheetos-colored as she has been in the past, Snooki's not worried about getting all vampire pale on us.
"When I tan once, it stays forever," Snooki tells us. "I have that natural dark skin. Even if I didn't tan for two years, I would still be tan."
It's good to know Snooki is putting the baby first before anything else.
"I have three applications on my phone that takes you through your pregnancy," she says. "They tell me things like what to eat, what to expect at certain times, like cramps or swelling. I'm always prepared for what's happening to my body."
Her not-so-tan body, that is.
"I'm also going to be taking Lamaze and parenting classes," Snooks adds. "But those are a little more down the road."
Snooki's baby daddy, Jionni LaValle, 25, is entering parenthood a little more prepared. "He has a big family, so he's used to taking care of his nieces and nephews," Snooki says. "He has more experience with children than I do."