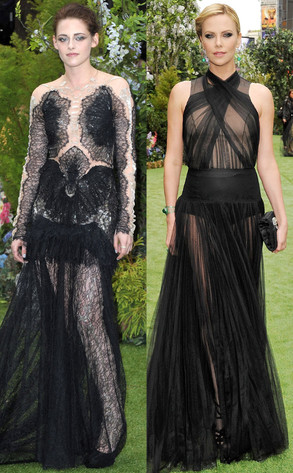 Dave M. Benett, Ben Pruchnie/Getty Images
Happy SWATH Day, Awful readers!
If you tuned into the Snow White and the Huntsman premiere via the Facebook livestream this morning (can you believe the gorgeous setting?!), then you saw both Kristen Stewart and Charlize Theron rock the enchanting green carpet. Aren't they just to die for?!
Although Char and Kris became fast friends on set, the Evil Queen and Snow White are fighting to the death in the flick, so it's only fair we have a little SWATH best-dressed competition, right?
Well, cue the "Breath of Life" soundtrack—it's time for a Snow White fashion smackdown.