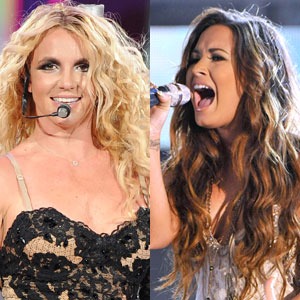 INFphoto.com ; Kevin Mazur/WireImage
When you hire a pop icon for your singing competition show, everybody has something to say about it.
Finally, after what seems like years of speculation, Britney Spears, along with Disney starlet Demi Lovato, have officially joined the new season of The X Factor to sit beside Simon Cowell and L.A. Reid at the judges table.  So when talent walked the red carpet at the upfront presentations in New York City, we just had to get their opinion on the judging choices.
Some were excited, while others, like American Idol and So You Think You Can Dance boss Nigel Lythoge, were less than confident about the two...
"I hadn't ever considered them. I always like mentors who have a lot more experience," Lythgoe told us. "Having said that, these two ladies have had so much personal experience; it'll be interesting. I like someone who's been there and knows the whole gamut of what these kids are going through and help them through."
While chatting with the stars of NBC, we got a much more enthusiastic response from the likes of Joel McHale, Donald Trump and more.
"I do know Britney, she's performed for me, Trump humble bragged to us. "And Simon's a total winner. I think she's going to do great."
"I think it's good because she'll finally be able to make some money," Community star and E! friend Joel McHale remarked dryly. But that comment could be because he was miffed about something. "[Simon Cowell] didn't approach me to be a judge this year. I cant believe it! I know what the X factor is."
Meanwhile, Nick Cannon and Howie Mandel, who know a thing or two about reality competitions, gushed about the two ladies on the judging panel. "I think they're going to be fantastic," Mandel told us. "Simon has hired them and Simon's my boss and whatever Simon does is brilliant!" Brown-noser!
"I think they're going to do awesome. It's funny—I actually just "punk'd" Demi Lovato on a new season of Punk'd and she was so emotional," Cannon spilled. "I'm interested to see when she has to make those tough decisions if she's going to get really emotional and connected with those [contestants]."
(E! and NBC are both part of the NBCUniversal family.)
Watch:
NBC Stars Talk Britney Spears' "X Factor" Gig
To see what Debra Messing and SVU star Ice-T had to say about the Britney and Demi, check out our interviews with the NBC stars below!
Do you think Britney and Demi have what it takes to be judges on The X Factor?