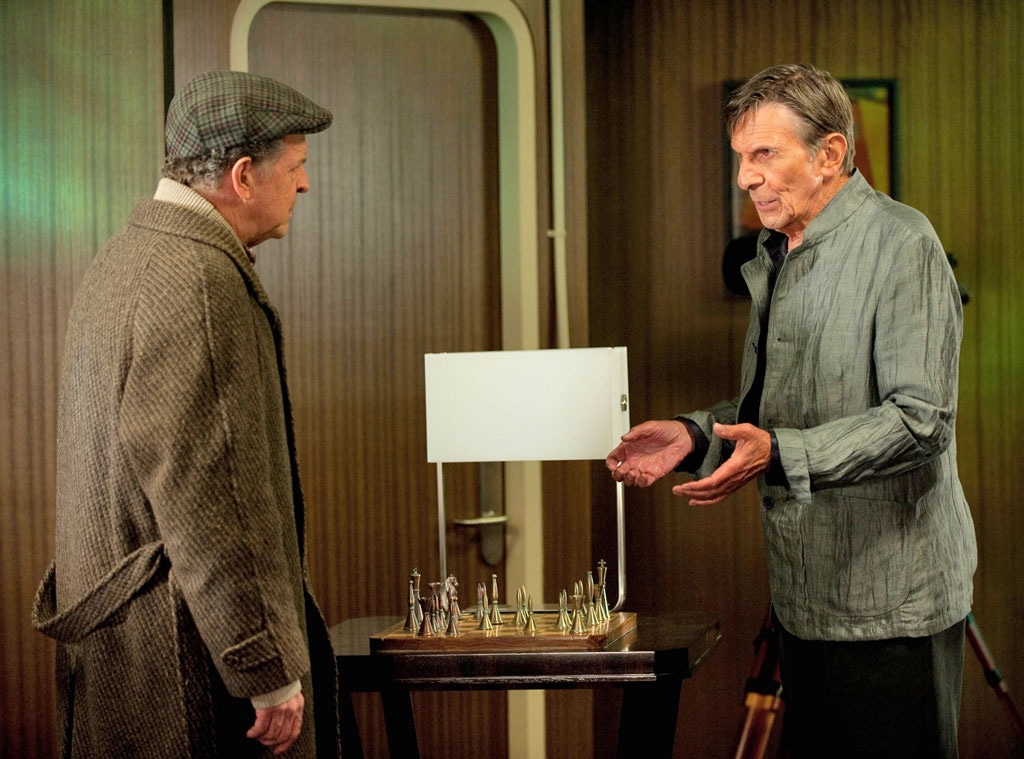 Cate Cameron/FOX
William Bell (Leonard Nimoy) is back on Fringe—and badder than ever.
Silly us: This whole season we thought David Robert Jones (Jared Harris) was the evil genius planning to take over the world, but turns out he's just a pawn in Billy Bell's monstrous plot. (Probably involving actual monsters, just chilling in an almond warehouse.)
So what exactly is his endgame? The not-so-retired Nimoy gave us some scoop about tonight's finale—and what's next…
"The character of William Bell started out to be rather [ambiguous]," Nimoy mused. "We weren't quite sure whether we were supposed to enjoy him or be afraid of him. At the end of the last season he seemed to come around to be less dangerous. This season, I think things have taken another turn—he's in another universe and has taken on other characteristics.
"You're going to see some interesting activities on the part of William Bell [tonight]," the OG Spock said, cackling. "This character has gotten himself out on a limb and is doing some wonderfully theatrical and bizarre activities. He has become a world of his own. Take that as a hint."
Well, that sounds ominous. Nimoy didn't offer any clues as to whether adorable (and badass!) Astrid, who was gunned down last week, will survive—but hints that Bell himself will be back in Fringe's final season.
"It will depend on my schedule [and] what they have in mind for the character, but we'll be talking," said Nimoy, who came out of his announced retirement to return to Fringe.
"I'm a sucker for a good role," he admitted. "I think the writing is wonderfully imaginative, [and Bell] is a fascinating character.
"It's not just the role of William Bell," Nimoy added. "It's the show. I think Fringe is a wildly imaginative show; the creators and the producers are very bright and very theatrical.
"I've never worked with a better company in my entire 60-year career."
The Fringe season-four finale airs tonight at 9 on Fox.
How awesome is Leonard Nimoy? What do you think Bell is planning? Is Astrid (gulp) dead? Share your guesses in the comments!