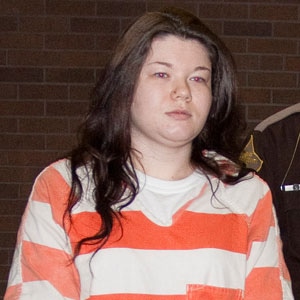 Splash News
Amber Portwood's legal woes continue to pile up.
E! News has confirmed that the Teen Mom star is back behind bars after failing to appear in an Indiana court, which was a term of her probation stemming from her arrest and subsequent incarceration last December for drug possession.
The 21-year-old claimed she missed her court date over doctors' orders to rest up following surgery.
Amber's brother Shawn Portwood confirms to E! News that she had her gall bladder removed.
"It's really sad because just the other day Amber was talking about [how] she was so happy to finally be turning her life around," he tells us exclusively. "She said she was going to work hard to get her charge reduced. Her new goal is to join the military. She's been doing so well."
Portwood spent two months in the slammer earlier this year after authorities found in her purse a medication that she had no prescription for.
She pleaded not guilty to one count of possession of a controlled substance and one count of probation violation, and was released in February on the condition that she complete a court-mandated drug program.
A month later, however, she made headlines for reportedly failing to take a mandatory daily drug test.
Portwood—whose legal troubles have also included a domestic-violence case involving baby daddy Gary Shirley, father of her 3-year-old daughter, Leah—spoke with E! News in March shortly after her release and denied the allegations.
"I would be in jail if I skipped," said Portwood, whose 22nd birthday is coming up on May 14. "Honestly, I don't give a s--t what people are saying...I'm doing what I have to do...they are not a concern of mine."
—Reporting by Katie Rhames