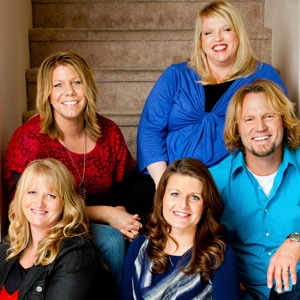 TLC/Kyle Christy
President Barack Obama isn't the only one speaking out for gay marriage.
The stars of TLC's polygamy reality series, Sister Wives, are also in favor of allowing same-sex couples to get hitched!
Yup, you read that right…
"I feel like we should be more enlightened as a society," says Kody Brown, the 44-year-old husband to Meri, 41, Janelle, 42, Christine, 40, and Robyn, 33, and father of 17 children.
Kody said he doesn't want legislators governing marriage.
"I married four women and I love them," he said. "I chose this out of love and out of faith. I feel like I want to extend that to all people…Let individuals define their love and their marriage. I don't want the government doing that."
Asked if their beliefs extend to gay couples, Kody said, "Let individuals define their marriage and let individuals choose who they love."
Christine added, "I think marriage is a wonderful opportunity to share your life with somebody that you love. I want all our children to marry who they love, too."
Janelle praised Obama for his historic remarks yesterday. "He's taking a lot of heat for it, but it was very brave of him," she said.
And the Browns know a thing or two about taking a lot of heat. They've been shunned by the mainstream public and even fellow polygamists for starring in a reality show. (The third season of Sister Wives kicks off on Sunday—yes, Mother's Day!)
"Polygamists are such a private society, culture," Kody said. "It's been very vulnerable to present yourself to the public and ask them to be OK with you. Sometimes its sad and sometimes it's very rewarding, but it was scary because you feel like you're standing in a football field naked and everyone is in the grandstand's looking at you."
The Browns' new memoir, Becoming Sister Wives: The Story of an Unconventional Marriage, is on sale now.