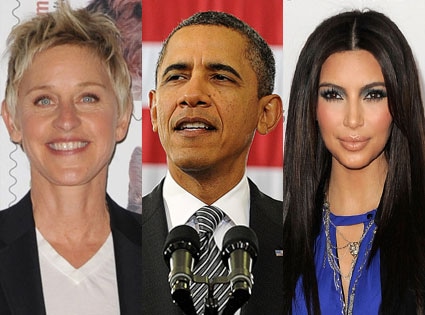 Frazer Harrison/Getty Images; JEWEL SAMAD/AFP/Getty Images; Frazer Harrison/Getty Images
Wedding bells are getting louder for same-sex couples.
If you haven't heard by now, President Barack Obama says in a new interview with ABC News that he now supports gay marriage.
And Hollywood has taken to Twitter to thank the president for taking this historic step...
"Pretty darn happy today," Glee star Jane Lynch tweeted. "Thanks Mr President, for supporting the dignity of my family and so many others!"
The president credited his daughters, Sacha and Malia, for helping him change his thinking because of their acceptance of their friends with gay parents.
"There have been times where Michelle and I have been sitting around the dinner table and we're talking about their friends and their parents and Malia and Sasha, it wouldn't dawn on them that somehow their friends' parents would be treated differently," Obama said. "It doesn't make sense to them and frankly, that's the kind of thing that prompts a change in perspective."
Ellen DeGeneres tweeted, "Thank you President @BarackObama for your beautiful and brave words. I'm overwhelmed."
Financial self-help television host Suze Orman wrote, "I am soooo PROUD of you PRESIDENT OBAMA YES YES YES it is about time. Marriage Equality is so very very important."
"I second! RT @TheEllenShow: Thank you President@BarackObama for your beautiful and brave words," Glee's Chris Colfer tweeted. "I'm overwhelmed."
Josh Groban, Jared Leto, Rachel Zoe, Kathy Griffin, Meghan McCain, Russell Simmons and Piers Morgan are just a few of the straight celebs who also posted messages about the big news.
"A fierce day for my gays and my prez @BarackObama – way 2 stand up 4 luv for ALL!" wrote Tyra Banks.
Dianna Agron tweeted, "Open our hearts & minds! Proud of Obama for speaking up."
Kim Kardashian more than just tweeted. "This is such a huge step forward in our country's fight for civil rights and I hope that today this will give hope to so many young people across the country," the E! reality star posted on her website. "We've never had a president so supportive of the lesbian, gay, bisexual and transgender community and today I am proud to be an American!! I'm so happy that our country is making history and moving forward. No more living in the past!"
The ABC News interview with Robin Roberts will air tomorrow on Good Morning America after highlights are shown on tonight's ABC World News with Diane Sawyer.
The president's remarks come just days after Vice President Joe Biden said he thinks gay men and women should have the right to marry, but less than 24 hours after voters in North Carolina outlawed same-sex marriage by voting to approve an amendment to the state constitution that limits the definition of marriage to a man and a woman.
Tori Spelling tweeted last night, "Sad to hear that Amendment 1 passed in North Carolina. Love is love! Period the end! #MarriageEquality."