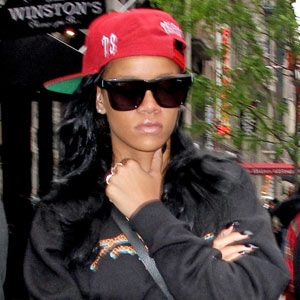 Hall/Pena, PacificCoastNews.com
Sure, Rihanna may have enjoyed herself when she hit up a strip club recently. But was the singer actually rushed to a New York City hospital for exhaustion and dehydration after allegedly partying too hard while attending the 2012 Met Gala on Monday night?
Not surprisingly, such speculation began to run rampant after the Barbadian beauty tweeted a pic of her arm...with an IV in it!
So what's the deal?
Well, hold off on calling 911, folks, because this rumor is...
So false!
A source tells E! News that Rihanna merely had a fever and the flu since last week. And while the songstress did need an IV, she is fine now.
Due to her illness, Rihanna missed the Saturday Night Live dress rehearsal over the weekend, but our source says she did do a soundcheck, adding that the show understood she wasn't feeling well and had to save her voice for the live performance.