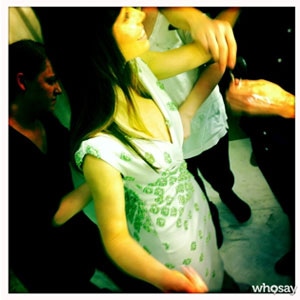 WhoSay
Well, let's all be glad she didn't choose @mrstimberlake as her handle. We're guessing a hat tip to Demi Moore is owed for that one.
But nonetheless, the otherwise fiercely privacy-protecting Jessica Biel has finally caved in to the pressures of social media and up and joined Twitter this week.
So, what revelations did the future Mrs. Justin Timberlake share with the world in her inaugural batch of 140-character missives?
It's safe to say @JessicaBiel has already gotten the hang of things, wasting no time in showing off personal photos of herself and indulging in some harmless ramblings—exactly the sort of thing the site was made for!
"I can't zip up my dress," read her first-ever tweet, sent out Monday night as she prepared for the Met Costume Institute Gala. "Welcome to my world!"
Alongside the tweet, the actress posted a shot of herself to her WhoSay.com page, sucking her nonexistent stomach in and being zipped up and otherwise primped by a team of stylists. In just two days and 10 tweets, Biel has already managed to rack up nearly 14,000 followers and is following just three people herself.
One of whom, yes, is her hubby-to-be. It's a match made in cyberspace. Welcome to the dark side, Jess.