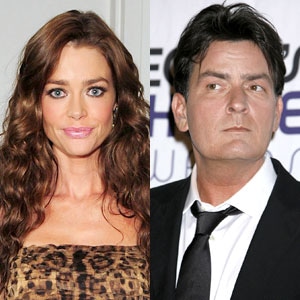 Albert Michael/Startracksphoto.com; Jeffrey Mayer/WireImage
You'd think it would be somewhat surreal when Denise Richards filmed a guest spot on Charlie Sheen's upcoming new series, Anger Management.
It so wasn't.
At least not for them…
"I got a little nervous when we shot our first scene together because I looked up and I realized everyone was staring at us," Richards, 42, told me last night at the Golden Hearts Awards, where the Midnight Mission honored boyfriend Richie Sambora, 52.
"But I really think it's more weird for everyone else than it was for us," she said. "We get along well, and it's been a long time. We met working and we've worked together many times since then."
If the series gets picked up, Richards' character will be back. Loosely based on the Adam Sandler movie of the same name, Sheen, 46, stars in Anger Management as a former professional baseball player who becomes a therapist.
Richards plays one of Sheen's love interests.
Really? Any on-camera kissing?!
"Maybe," Richards teased. "We had a lot of fun together."
Meanwhile, Richards also said adopted daughter, 10-month old Eloise, may not be her last child.
She said, "I would be lying if I said I was finished."