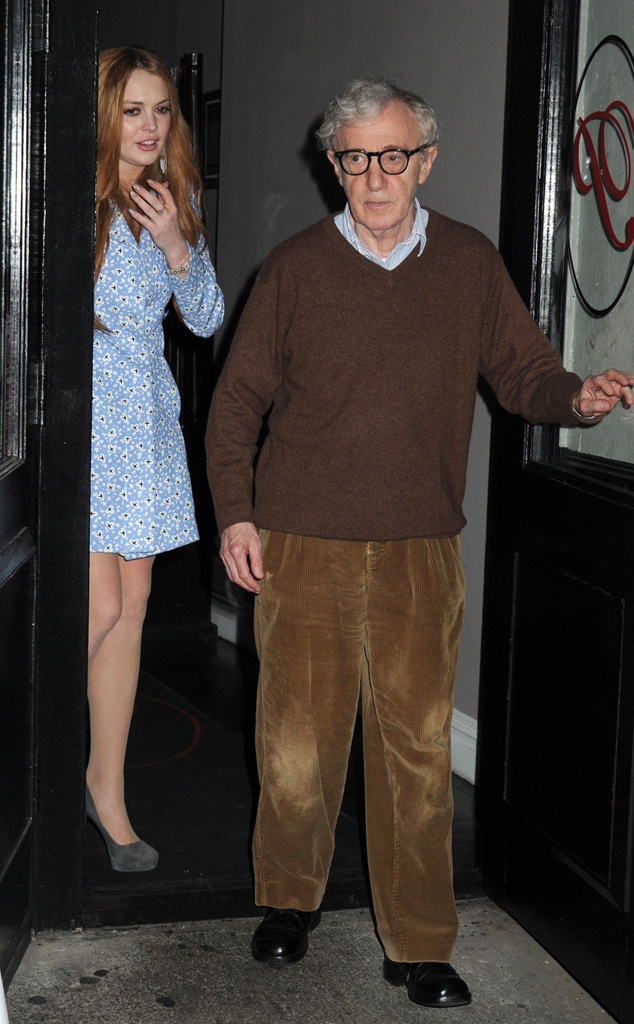 PKI-nyc / Splash News
First stop Lifetime made-for-TV movie, next stop Oscars?!
It's far too soon to tell, but you never know! Especially since Lindsay Lohan—who, of course, is set to channel Elizabeth Taylor in Liz & Dick—was spotted leaving Philippe restaurant in Manhattan over the weekend with four-time Academy Award winner Woody Allen.
So what does the seemingly odd pairing mean?!
Camp LiLo isn't saying!
"Lindsay and Woody had dinner together," her rep confirms to us, though remains tight-lipped on why exactly the duo was dining together. "Lindsay is a huge admirer of his work."
X17 photographers caught the twosome leaving and report that Linds was actually chauffeured from the Mercer Hotel to the restaurant by Allen's driver. They say that the two were "deep in discussion" while at the restaurant "for about an hour."
Which raises the question: What were they talking about? Or maybe the inquiry weighing on your mind is, "Uh, how the heck do they even know each other?!"
We'll get to the latter first: This actually isn't the first time Woody and Allen raised eyebrows together. The twosome chatted—and had their photo taken—at the annual amfAR Gala (which, FYI, was started by Liz Taylor) earlier this year.
When asked then about how the two knew each other, Woody explained, "I had seen her on New Year's Eve. She was at a party that I was at, and we were just saying, 'What a coincidence.' That was the gist of it. I've only met her those two times in my life."
Funnily enough, it was also at that NYE bash that Lohan canoodled with Diane Keaton—who just so happened to star in more than a handful of Allen's films and one Broadway play. Maybe LiLo was nabbing some pointers on becoming Woody's next muse?
The actor is infamous for pairing up with a particular actress for a handful of his films, including Keaton, Scarlett Johansson and Penélope Cruz, to name a few.
Could Lindsay be next on his list? Who knows! But we're certainly itching to find out if she'll be starring in Midnight in Paris 2: History's Hottest Mean Girls.