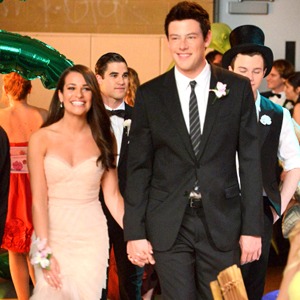 Mike Yarish/FOX
It's safe to say there are a lot of questions on Glee fans' minds heading into season three's main event (graduation, duh-doy!). Who's graduating? Who isn't? Who will make it to New York? Who might be leaving the show? And perhaps the biggest question of all: Which couples will stay together post-McKinley High?
We caught up with Lea Michele and Cory Monteith at the TV Academy's event honoring Glee, where they talked about the "sad" vibe on set during the finale, what they'd liked to see for Finn and Rachel (aka Finchel) in season four and more!
Plus, what did Lea have to say about Rachel and Quinn (Dianna Agron) winning our Top TV Couple Tournament? Find out...
Watch:
Monteith and Michele Talk "Glee" Graduation
Of the highly anticipated May 22 finale, Cory teases, "There's so many things happening in such a short amount of time that you really couldn't have seen it coming. A lot of people are graduating that you didn't think were going to, a lot of people aren't. There's a lot of surprises is what I'm trying to say."
While Lea tells us she's "super excited" about what Ryan Murphy told her about Rachel's upcoming season-four storylines, she admits that filming the finale has been pretty emotional. "It is the end of something, and that's just really sad," she says. "It is truly, truly like we're graduating high school—the way I feel right now is exactly the way I felt when I was a senior in high school. It's like I'm leaving high school, I'm so sad, I'm so nostalgic leaving my friends, but I am also super excited about college and about what's next. That's really how I feel!"
Cory says he has a "pretty good idea of what's going to happen" with Finn in season four and that he's happy with "whatever puts him around music and conflict because that is always the most fun stuff as an actor."
As for fan favorite couple Finchel's future? Cory wants them to stay together as much as you do! "Heah, absolutely! It's really sweet. I mean their stuff is really sweet and [have] always been my favorite scenes to shoot," he says. "They're kind of like Ross and Rachel from Friends, right?"
Finally, we had to ask Lea about another very, very popular relationship on the show: Rachel and Quinn, aka Faberry. While the duo is not romantically linked on the show, Faberry still won our Top TV Couple Tournament.
"I don't understand it, it's so insane!" Lea says of their win. "I tweeted yesterday that Dianna and I were doing a scene in the girl's bathroom and people like lost their minds! It's so funny and I just think that hey great, girl power! I mean, why not?!"
Glee airs Tuesdays at 8 p.m. on Fox.
To hear more Glee goodness from Cory and Lea, watch our interviews with them above!