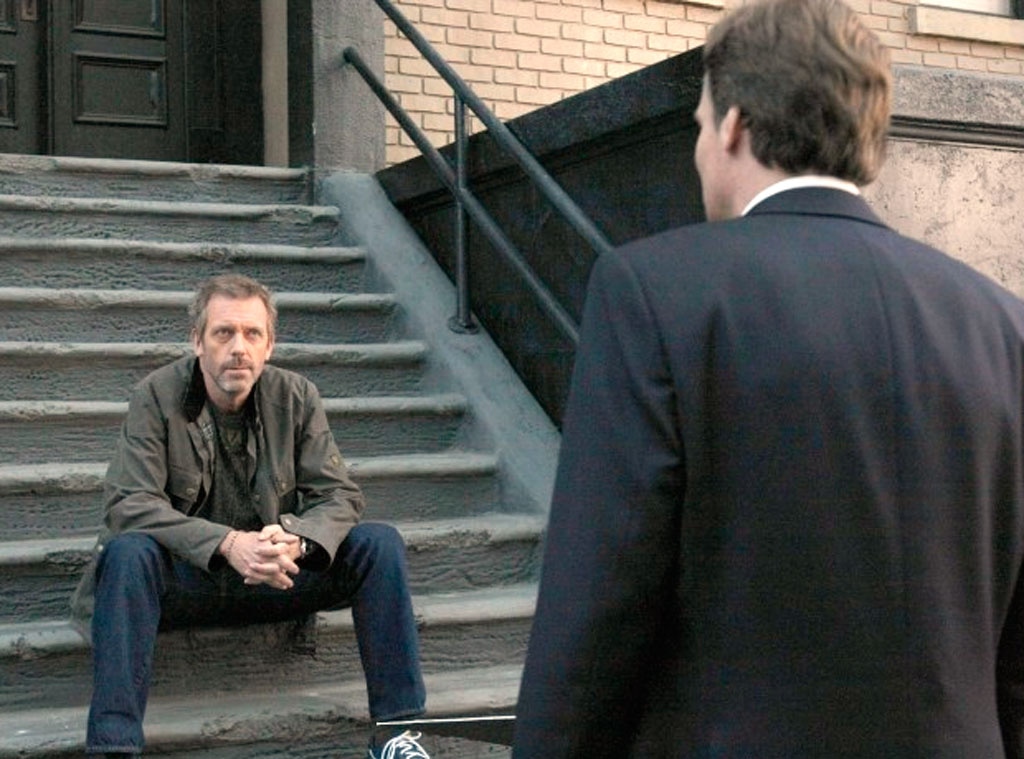 Byron Cohen/FOX
As we've mentioned in the past couple Spoiler Chats, next week's House is a real doozy and will wreak absolute havoc on your emotions. But since we learned that Wilson (Robert Sean Leonard) has cancer, we've all gotten used to the pain and the tears, right?
Today, creator David Shore spoke to reporters about House's final episodes and final moments, and he dropped a sound bite that fills us with some dread about how this Wilson-House storyline will wrap up. Plus, he talked at length about his somewhat controversial (at least in the eyes of fans) handling of House and Cuddy's relationship. But first, let's talk about the quote that set our alarm bells off:
"It's definitely an ending," Shore says about the series finale. "I don't want to say more than that. We never do happy endings. But we also try not to simply do miserable endings. Bittersweet is the most you can hope for us."
Bittersweet as in Wilson and House (Hugh Laurie) ride off into the sunset together to be bros forever? Sure, that's not what bittersweet means, but maybe the definition will change before the series finale.
When pressed for more details, Shore says that the final moments of next week's episode, "Holding On," are a jumping-off point for the events in the finale. "House is put into a very difficult position, and it's about him assessing his future. We developed this idea months and months ago, the idea for this final episode, which when you see it it'll sort of become clear. There were many things I liked about this idea. It allowed us to explore who he was and the nature of this character and take a look at who he is as a human being and his values as a human being. It also allowed us to naturally bring back other people, so I started making phone calls."
And those phone calls brought back House alums Jennifer Morrison, Amber Tamblyn, Kal Penn, Olivia Wilde and more for the finale. Even Jesse Spencer, whose character Dr. Chase just left, is set to pop back in for the last episode. "He was asked to go do a pilot. It happened right at a time where we were considering a storyline that happened in the last episode where he decides to move on. So it worked nicely," Shore says about Spencer's recent absence. "To a great extent, we were looking for ways to wrap up the stories—primarily the House-Wilson thing was the focus—but we were aware that the supporting characters needed some element of closure in the broadest sense. And we didn't want to throw it all in the final episode. And Jesse's been with us since the beginning so we decided to give him his own little ending story. I thought he was great."
And finally, the rambling answer all you Huddy fans have been waiting for: Does Shore have any regrets on how he handled the House-Cuddy (Lisa Edelstein) relationship? "I'm not big on regrets. That's not to say it was perfect," he says. "I do fundamentally believe that we had to do it. I know a lot of people think we could've done it better, a lot of people think we shouldn't have done it, a lot of people think once we did do it we should have kept them together. I think it was going to be a lightning rod no matter what we did. You can't have sexual tension go on and on and on and on. It was there from the beginning and I enjoyed working with it from the beginning, but at a certain point we had to put them together."
An all-new episode of House airs next Monday night on Fox.
Ready for the end of House? How do you feel about how House and Cuddy's relationship was handled?