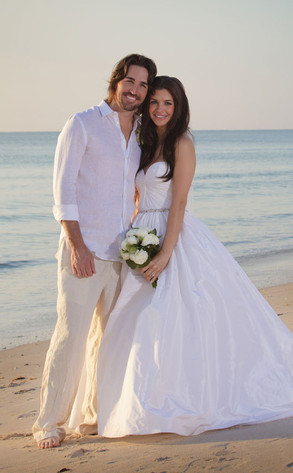 Courtesy of Brian Pepper
Jake Owen's pre-wedding weekend wasn't exactly smooth sailing.
The 30-year-old country singer's Cinco de Mayo celebrations got a little out of hand, and he was detained but not arrested Saturday by police in Vero Beach, Fla.
He took to Twitter to apologize for the incident, admitting that he had "too good of a time," and added, "I embarrassed myself and my family and most importantly the great people of my hometown."
The Indian River County Sheriff's Department explained that as Owen was "joking around" with family and friends through a restaurant's window while wearing a mask, a deputy told him not to enter (there is a law against entering a business with a mask on). Owen did so anyway and was initially handcuffed. However, everything was straightened out and no arrest was made. His rep tells E! News it was "a big misunderstanding."
But that didn't stop Owen from going through with his wedding plans! His rep confirms to E! News that at sunrise on Monday, he said "I do" to model Lacey Buchanan.