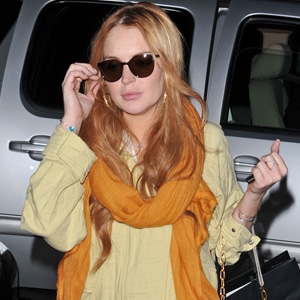 JosiahW / Splash News
Lindsay Lohan is on an upswing again.
Just hours after the case was delivered to them, the L.A. District Attorney's Office concluded that there was "no direct evidence" of Lohan ever hitting the manager of Hollywood's Hookah Lounge with her car and then driving off, as Thaer Kamal had accused her of doing, last month.
In fact, per the D.A.'s report, there was no evidence that anyone hit Kamal.
"Victim Kamal changed story and lack of cooperation with law enforcement make him a non credible witness," stated the D.A.'s report. "The fact that no collision is seen on the video and a lack of any damage to any vehicle or any independent witnesses make it impossible to prove this case beyond a reasonable doubt."
Case closed.
LAPD detectives handed their investigation off to the D.A. earlier today after conducting interviews and reviewing surveillance tape of the area on Hollywood Boulevard where Lohan had been accused of hitting Kamal as she drove away from a club.
Next up for the White House Correspondents' Dinner attendee, she'll continue to prepare for her role as Elizabeth Taylor in the upcoming Lifetime movie Liz & Dick.