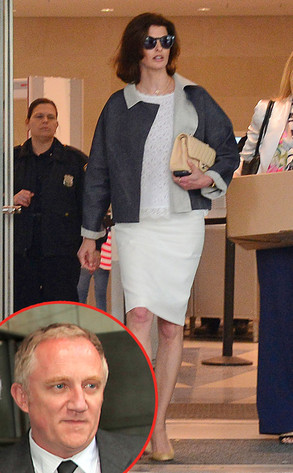 EMMANUEL DUNAND/AFP/GettyImages
Tensions were high on Friday as Linda Evangelista and François-Henri Pinault faced each other for the second day in Manhattan Family Court. The supermodel is seeking what she believes to be a fair child support settlement from the father of her 5-year-old son Augustin ("Augie").
Pinault and current wife Salma Hayek's 4-year-old daughter, Valentina, was a frequent topic of discussion in the court. Evangelista's attorney, William Beslow, said that while Valentina isn't "a benchmark" for how Augie should be treated, the amount of money—particularly a $12 million L.A. home in a trust for her—should be taken into consideration.
And while Evangelista, 46, and Pinault, 49, barely made eye contact, the billionaire business mogul did agree that the supermodel is "an excellent mother" to their son. He also expressed gratitude to her for her empathy during Hayek's extremely difficult pregnancy with Valentina.