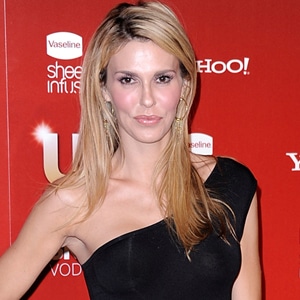 Frazer Harrison/Getty Images
Don't worry, catfight lovers, Brandi Glanville's not going anywhere.
As we anxiously wait for another season of Real Housewives of Beverly Hills—and mourn the departure of Camille Grammer—we learn that at least one feisty blonde will remain on the reality series, despite rumors that she was dropped.
Contrary to reports she was being sacked because her kids can't appear on the show, Glanville's always-entertaining presence on Real Housewives isn't being cut down.
"She's a full-time Housewife," a RHOBH source tells E! News. "Bravo is fully supportive of Brandi and understands that Eddie [Cibrian] won't let her kids be shot for the show. It has zero impact on her involvement with the show."
Brandi also confirms that these rumors are false by tweeting, "Dear @radar_online u have no idea what ur talking about ur story is ALL wrong! As usual."
"Funny no one really knew or knows my work status and after on talk woith my ex husband its splattered all over the internet #leakmuch?" she wrote.
Are you excited to see Brandi on the small screen again? Let us know in the comments!