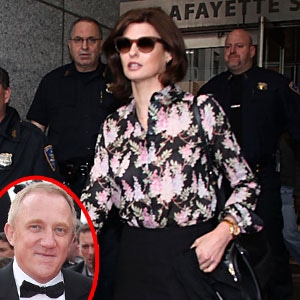 Getty Images
It might take two to make a baby, but in a New York City courtroom Thursday, François Henri-Pinault, who is currently married to Salma Hayek, told a judge he "was not involved in the decision of having the baby" with Linda Evangelista.
Evangelista, 46, and her billionaire baby daddy, 49, are trying to settle on the amount of child support that Pinault should pay monthly to the supermodel for their 5-year-old son, Augustin.
Evangelista's lawyer, William Beslow, told the judge Pinault's "initial happiness" upon learning the model was pregnant in 2006 quickly dissipated. According to Beslow, Pinault then asked Evangelista to "terminate the pregnancy."
Evangelista's lawyer said Pinault asked her how she would pay for the child's expenses and made it clear he would not help financially.
"I was not involved in the decision of having the baby," Pinault testified, adding that he and Evangelista had only spent "about seven days" total together before she told him the news. When Beslow asked if he believed Evangelista "took steps" to become pregnant, he responded, "Well, she can answer that, but I guess."
 From 2007 to 2010, Evangelista handled all of Augustin's expenses. "She didn't ask," Pinault said. "I didn't offer."
"There were no requests," he added, noting that when she asked for money last August, he "accepted in 20 minutes."
When Pinault's lawyer, David Aronson, claimed Evangelista was seeking $46,000 a month in child support payments, the model moaned aloud. Her lawyer interrupted, saying this figure was inaccurately being broadcast by the media and stemmed from a reporter's misunderstanding. The actual amount of child support Evangelista is seeking for Augustin has not yet been mentioned in court.
Evangelista's lawyer made the claim that she is concerned the amount of money awarded to her for her son in this trial is all he will ever receive from his very wealthy father. He added that while the money spent on Pinault and Hayek's 4-year-old daughter Valentina shouldn't be "the benchmark" for what he provides for Augustin, it should be taken into account.
Testimony is expected to continue through Tuesday, with Evangelista scheduled to take the stand tomorrow.
UPDATE: A spokesman for Pinault says of the claim that he asked Evangelista to abort: "It is completely untrue. It is utterly false."