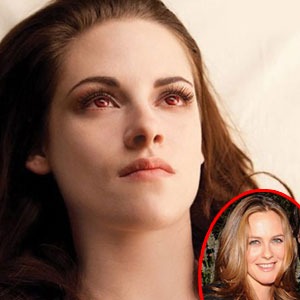 Summit Entertainment, Getty Images
Is Alicia Silverstone moving in on Kristen Stewart's Twilight territory?
The 35-year-old actress has reunited with her Clueless director Amy Heckerling for the upcoming vampire-themed romantic comedy Vamps costarring Krysten Ritter.
While Silverstone insists the bloodsucker flick isn't Twi-inspired...
She is hoping to take a bite out of Stephenie Meyer's young fanbase.
"It was just great costumes and beautiful makeup," Silverstone told us earlier today at her Juice Beauty Collection for Ulta event at Cecconi's in West Hollywood. "You get all the perks of Clueless. I think by the end of the movie, all little girls will want coffins."
Silverstone explained that it was Heckerling's own penchant for going out all night and sleeping during the day that sparked the idea for the movie.
"Amy's a little bit of a vampire," Silverstone said, adding, "So she thought, 'I'd love to live forever. What would that be like?'"
"The movie's really about the exploration of, 'Do we really want to live forever?'" she said. "'What happens? Is it going to be fun to go to clubs and hang out with young people forever or is it not?'"
Silverstone also recently reunited with Clueless costar Jeremy Sisto on his ABC show Suburgatory. Could this mean a full-on Clueless reunion is in the works?
Silverstone teased, "I'm game."
And so are we! We'd love to see Cher all grown up.
Now we want to hear from you. Who's up for a Clueless reunion? Chime in below.