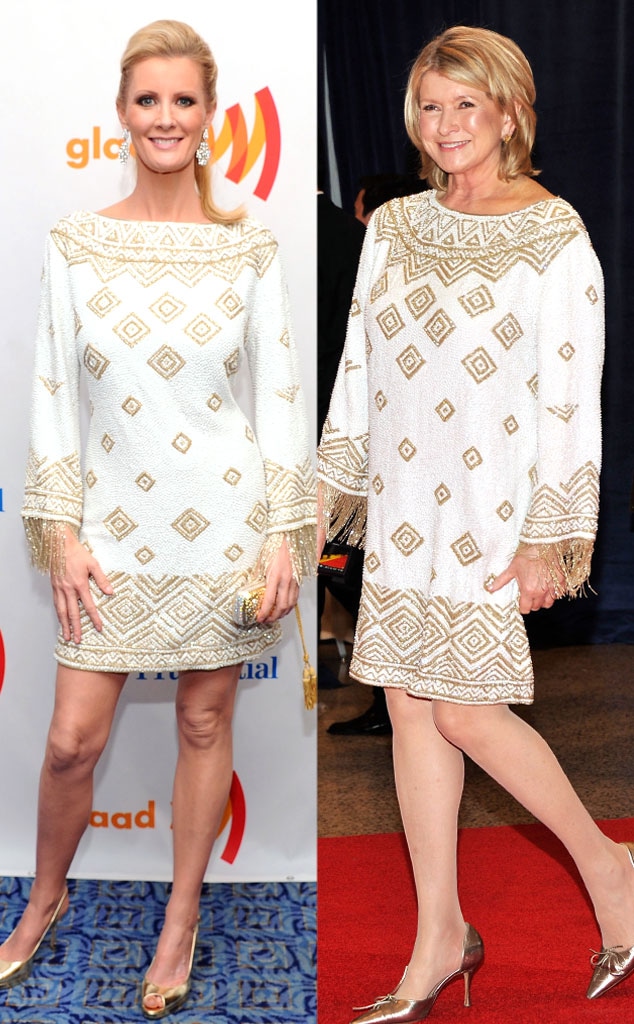 Getty Images
When it comes to one very popular Marchesa dress, bedazzled spatulas won't help you on the red carpet of truth, ladies!
It's a war of the blond homemakers-turned-business-moguls, and first up to bat is Food Network personality-author-cook Sandra Lee. The 45-year-old wore the beaded white and gold tunic to the 22nd GLAAD Media Awards in New York back in March of last year. She complimented the look with gold slingback heels, a careful updo and metallic clutch.
Meanwhile...
The homemaker everyone loves to hate, Martha Stewart, attended the White House Correspondents' Dinner this past week and said on her blog, "Here I am all set to go wearing a lovely beaded dress by Marchesa and shoes by Manolo Blahnik." Stewart also paired the look with straight hair and minimal makeup.
We can't be certain of whether the 70-year-old made an impression on President Barack Obama, but our gal-pal Kim Kardashian told Us Weekly that, "I think the highlight of my night was meeting Martha Stewart. She is such an inspiration to me! Mrs. Connecticut!"
Even though Kim's vote is likely going to Martha, who do you think wore this Marchesa tunic best?
The Fashion Police BSML May 2 Poll