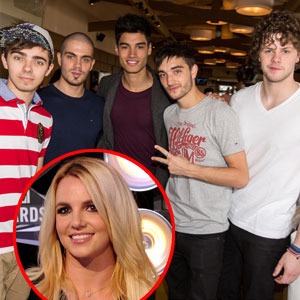 Christopher Polk/Getty Images; Jason Merritt/Getty Images
What's up with the Wanted?
Just the other day the British boy band called Christina Aguilera a "bitch" for apparently not being nice to them during their recent appearance on The Voice and now they're going after Britney Spears.
During a radio interview yesterday, the group claimed that they were told not to look at the pop princess when they opened for her.
Well, Spears' camp is now fighting back…
"What's even more interesting than the false allegations they made is the fact that they have claimed to be picked on by two female pop stars in just a few days," Spears' rep says. "Look out Lady Gaga—there are still three days left this week."
The Wanted said the Spears incident happened while Siva Kaneswaran and their tour manager were looking at a laptop in a hallway. Security ordered them to turn away because Brit was about to come through, they said.
"We faced the wall for about 10 seconds until she got really far away," Kaneswaran said on Fresh 102.7/New York.
When the DJ said they were probably just "messing" with the group, Kaneswaran insisted, "It was serious."
Even so, that doesn't mean they're totally hating on Spears.
The group's curly-haired Jay McGuiness said, "When we actually met her person to person she was so down-to-earth."
Spears even tweeted a photo of them together backstage with the message, "Love them!"
Wonder if she still does.