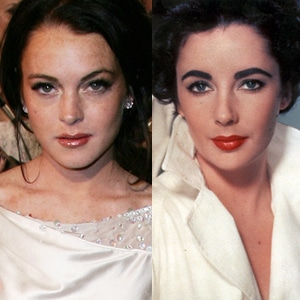 Tony Barson/WireImage; MGM
Yesterday was the eighth anniversary of Mean Girls (can you believe it?!) and even though fetch never really caught on, Lindsay Lohan is indeed ready for her comeback as Elizabeth Taylor on the boob tube—filming for the Lifetime biopic is set to begin June 4th.
And production for the flick's going perfectly as planned—the location's moved from Canada to L.A. and insurance policies are in order, but there's one big piece to the puzzle producers are still missing—who will play Richard Burton, Elizabeth Taylor's fourth (and fifth) husband.
So, what's the latest in casting couch news and are there any frontrunners for the role?
A source close to production 'fessed to E! News that "producers of the Lifetime biopic Liz & Dick have still not cast the actor to play the role of Richard Burton."
Which, seems fairly problematic considering there are only 34 days before filming begins. So there must be a few frontrunners, right?!
Wrong.
"As of today there is no final casting. They have been looking at a lot of actors," our production-savvy source revealed.
Our source would not mention who, specifically, producers have their eye on but we're getting nervous as June 4th nears. All the hype's been around casting Lindsay, but this is not the Elizabeth Taylor solo biopic—the role of Richard Burton is equally as important since the flick chronicles Liz & Dick's chaotic union.
Still, our source confirms shooting is indeed "set to start in L.A. in the first week of June", so producer Larry Thompson better pick his Dick pretty soon if he wants to stick to schedule.
As for a reason behind the hold-up? Our production insider reveals the casting's not as easy as it seems:
"Everyone wants to make sure the male lead not only can pull off Richard Burton, but that they have great chemistry with Lindsay. It is a double-whammy casting challenge."
Hey Larry, if you need some advice we've already pinned down four dudes who we think are par-fait for the part, but we still want you Awful readers to weigh in.
Let's cast this Richard Burton role so we can move on to more important things, like, Lindsay's future antics on set!
Don't worry dolls, we're totally kidding! We all know Linds is on her very best behavior these days.