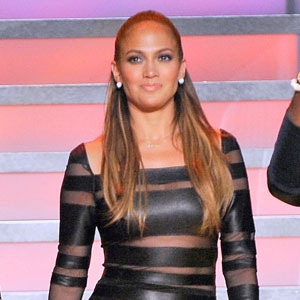 FOX via Getty Images
Jennifer Lopez's former driver is claiming that, when the diva was in the backseat, he didn't eat.
A lack of meal breaks is one of the indignities Hakom Manoukian is alleging in a breach-of-contract lawsuit filed today against Lopez, Nuyorican Productions and her manager, Benny Medina.
Manoukian says he had been driving Lopez and Marc Anthony part-time since 2005—but that it all went wrong when he was encouraged to give up his private limo company and go to work for them as their full-time chauffeur last year.
A rep for the increasingly busy Lopez did not immediately return a request for comment.
Manoukian's suit states that, once he was given the full-time position in April 2011, he was promised a yearly salary of $72,000 plus "production pay" whenever Lopez was filming, performing or busy with professional engagements. Based on her schedule, it was estimated that his actual salary would amount to $200,000, according to the complaint filed in Los Angeles Superior Court and obtained by E! News.
But during the next few months, Manoukian claims, he received no production pay or overtime whatsoever and was treated unfairly by Medina, who during one job in Atlanta allegedly "chastised and humiliated" Manoukian by telling the driver it was a big mistake to hire him and that he was "not 'presentable'" and didn't speak English well enough to handle such a big job.
The plaintiff states that he was demoted to Lopez's L.A.-only driver after he complained about Medina, and his term of employment ultimately ended at the end of September.
In addition to breach of contract, Manoukian alleges deceit, breach of implied covenant of good faith and fair dealing, constructive fraud, failure to pay overtime, failure to provide meal periods, unfair business practices and wrongful termination. He is seeking unspecified damages and overtime compensation.
—Reporting by Claudia Rosenbaum