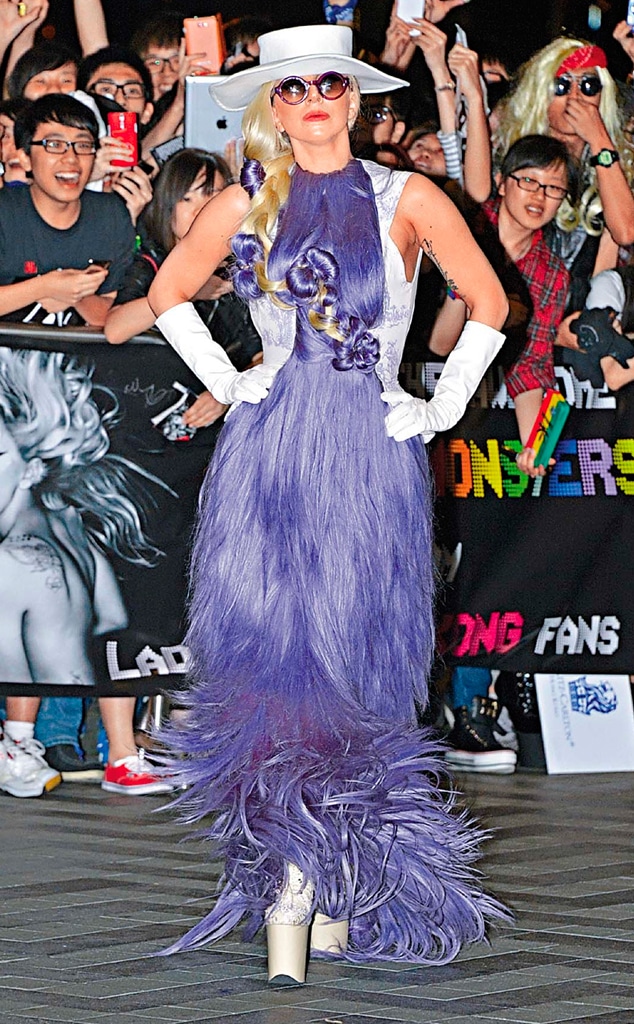 ChinaFotoPress/Splash News
If this whole music thing doesn't work out, Lady Gaga has a real shot at headlining a circus sideshow act.
The Mother Monster kicked off her Born This Way Ball tour in Hong Kong over the weekend wearing a purple wig gown—that's right, what you're looking at is hair—that was woven into her own blond locks, white gloves, an embroidered vest, white brimmed hat, sky-high platforms and mauve sunglasses.
While this isn't the first time the 26-year-old has dared to venture outside the world of normal fabrics—we all remember that cured meat dress—it's also not the only time we've seen her use hair for the sake of fashion…
This is the eighth sighting of a hairy ensemble on Gaga, as she's made six public appearances in wig based outfits and two onstage. Dare we say that this Lady may have found her style muse right on her own head?
It's fantastic when stars make bold choices and we know Gaga was Born This Way, but it isn't even flattering! If you're going to buy a wig it should at least have a great fit, are we right?!
Undoubtedly we'll see more hair raising outfits, as there are 110 shows on the worldwide tour to go. But what do you think of Lady Gaga's wig dress trend, is it strange in a good way or just plain wrong?
The Fashion Police April 30 Poll