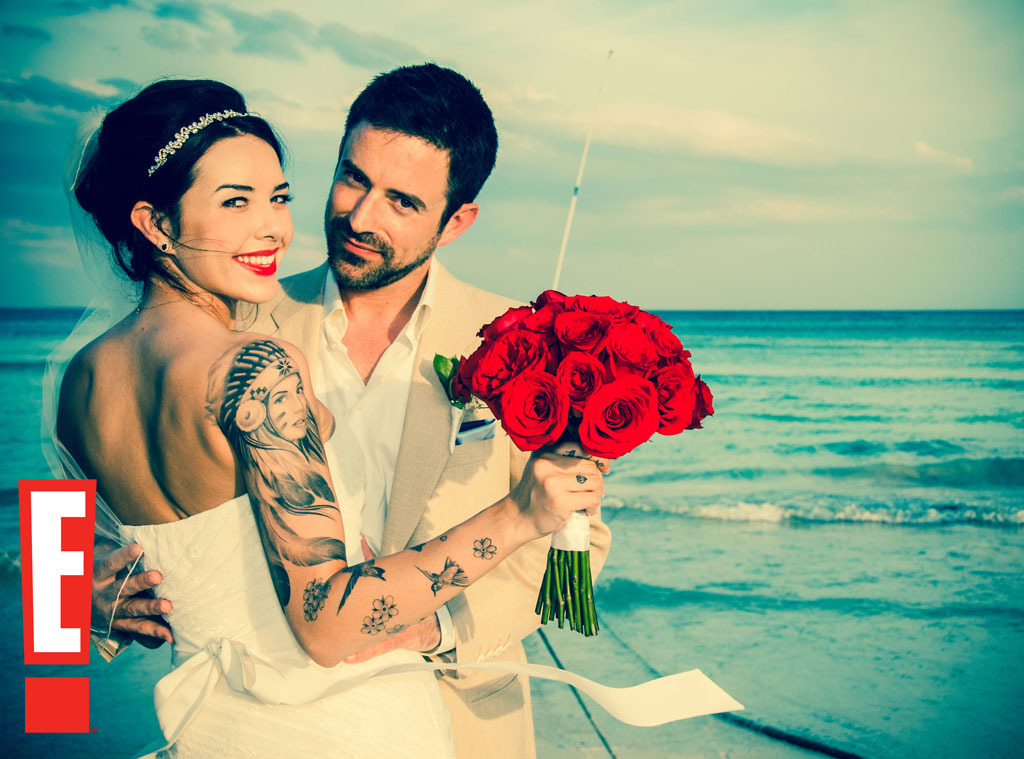 Courtesy of Alexis Neiers and Evan Haines
Alexis Neiers is now associated with a whole new kind of bling!
The 20-year-old onetime E! reality star and "Bling Ring" member was married last week in Mexico to Evan Haines, a Canadian business owner.
The two tied the knot at the Blue Parrot Hotel in Playa Del Carmen in front of 20 guests, including her mom, Andrea, sister Gabrielle and adopted sister Tess Taylor.
"It's really an incredible thing to learn to love yourself and then to be able to allow yourself to be unconditionally loved by another," the former Pretty Wild star told E! News. "When I entered this relationship I was happy, and now I'm even happier. He is the kindest man I've ever known. I am truly blessed."
So where did Neiers, who spent a month in jail during the summer of 2010 for burglarizing Orlando Bloom's home and part of last year in rehab, meet her husband?
"We met in Alcoholics Anonymous, he's six years sober," said Neiers. "When I first came into the room, I was such a mess and I remember him staring at me from across the way. He kept his distance."
After leaving AA and a couple of months of intensive therapy, Neiers returned and saw Haines again.
"I came back and he saw the consciousness shift that I had developed. He asked me out for a month before I finally said yes," recalled Neiers. "Our first date, we went to dinner and then sat on the beach for hours talking about life, our goals and dreams and I remember staring at him in awe, thinking, 'Does he really exist?' We both love service work. It is one of our biggest passions and it balances each other out very nicely."
The last couple of years have been rough for Neiers, but she thinks that every obstacle served a purpose.
"I would have never thought that every hardship that I went through, stemming back to my childhood, had an ultimate purpose in my life. And today I have a feeling of purpose in my life that is much bigger than I am and I am really so lucky," she said. "I feel to love and give yourself to your partner and to maintain your spiritual practice is the ultimate level of consciousness and test and I love that fact that we chose each other to walk this journey of life together."
Neiers, who went back to school to become a drug and alcohol counselor after leaving rehab, is taking this positive outlook into her next venture, which is starting a non-profit organization in downtown Los Angeles.
"Our goal is to provide a safe haven for youth and young adults who are less fortunate and addicted to substances," Neiers said. "We'd like to not only provide 12-step meetings, group therapy and counseling, but also to include different holistic approaches to help people recover and deal with psychiatric disorders."
Neiers also wants to offer skills training classes, self defense and GED prep classes.
"The possibilities are endless and I am very excited to be able to give back what was so freely given to me," she said.