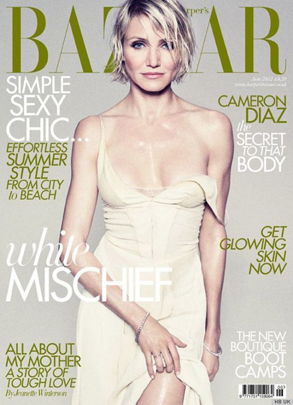 Harper's Bazaar UK
Cameron Diaz and Gwyneth Paltrow have more in common than being blond, beautiful and talented actresses: Both of their fathers passed away at the age of 58.
In a revealing interview with Harper's Bazaar U.K.'s June issue, Diaz says it was after the passing of her father, Emilio Diaz, in 2008 that she and Paltrow "became very close." (Paltrow's father Bruce lost his battle to cancer in 2002.)
"She reached out after my dad's death," the What to Expect When You're Expecting star tells the mag. "It was very sweet. We bonded on that."
The 39-year-old actress also refers to Paltrow and her hubby Chris Martin as "exceptional people." But the "perfect Englishman," in Diaz's eyes, isn't Coldplay's frontman: It's none other than Colin Firth…