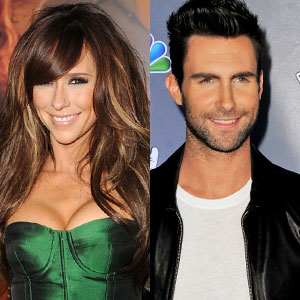 Getty Images
Jennifer Love Hewitt's recent Adam Levine crush confession got more attention than she bargained for.
And the 33-year-old actress is definitely not too thrilled about that.
Now, she's taken to Twitter to express her regret over her revelation.
First a recap. Last week on Ellen, Hewitt said she's got her eye on newly single Levine, and then remarked to E! Online about her desire to "massage him." Appearing on Ellen this week, The Voice coach responded that he was "flattered," but also noted that her gesture was "aggressive."
Is that a bad thing?
Either way, that led to The Client List star tweeting today, "The moment when you make a comment about something or someone and the world makes you feel like a total fool.#keepcrushesquiet"
And continued with, "Am I dating? Am I crushing? No! I'm directing The Client List season finale!;)...Thank you to @adamlevine for being so gracious on Ellen about my crush heard round the world. I've learned a lesson.#Sssh."
We hope she changes her mind about keeping quiet because, well, that's just no fun for us.