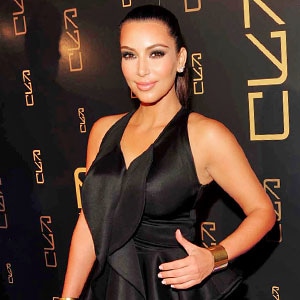 Albert Michael/startraksphoto.com
As we were getting comfy in our Snuggies to enjoy another week of goodness with Liz Lemon (Tina Fey) and Jack Donaghy (Alec Baldwin) on 30 Rock tonight, we caught a familiar face on the tube—Kim Kardashian!
Wait, what was she doin' at TGS With Tracy Jordan?
The E! reality star—along with SNL alums Amy Poehler and Jimmy Fallon—were just a couple of the surprising faces we saw from tonight's live episode on the West Coast.
"I hear 30 Rock is great tonight... Might want to tune in ;)," she teased on Twitter.
Kim—looking tasteful and professional in a black top, black pants and camel blazer—made an appearance in the very beginning of the show when she walked into Jack's office as a Cabletown coworker who needed to use the potty. We saw Kenneth (Jack McBrayer) let her in and then K.K. mouthed "thank you," shook Jack's hand and went on to do her business.
But that wasn't all we got of our girl.
After Jenna Maroney's (Jane Krakowski) cross-dressing boyfriend Paul (Will Forte) proposed to her during the live TGS show singing Mad Men's "Zou Bisou Bisou," Lemon says, "Wow, 2.5 million people just saw that."
And in pops Kim with her digital video recorder and added, "Now 14 million people just saw that. You're welcome."
Kimmy tweeted again after the show, saying, "Anyone see 30 Rock tonight??? I had a blast!!!! Love this show!"
Other surprise guests included Jon Hamm, Danny Pudi and Sir Paul McCartney.
What did you think of Kim's cameo? Let us know in the comments!