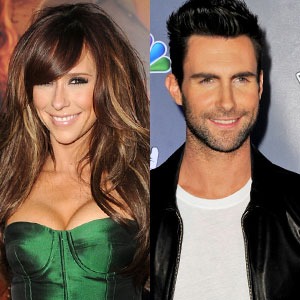 Getty Images
Jennifer Love Hewitt may be an "aggressive" flirt, but Adam Levine is a "pain in the ass."
The Maroon 5 frontman appeared on Ellen today, and, of course, the Client List star's public confession of eyeing Levine (which was made on the show earlier this month) was brought into conversation.
"I heard about that. That was aggressive," the Voice coach joked.  "It was really sweet and flattering. Beautiful life, you know, when a beautiful woman says nice things about you."
Aw, how sweet! But watch out J. Love, this 33-year-old is not the easiest to handle.
"I can be a huge pain in the ass, huge pain in the ass," Levine says in the May issue of Paper magazine. "That's part of who I am and there's not a person I know who doesn't think I'm a pain in the ass. But I'm also really nice and a completely affable and socially adept person. There's a difference between being an asshole and a pain in the ass."
So is this pain in the you-know-what against the thought of settling down? Doesn't seem to be, but he's also not about to get into anything without doing his research.
"I'm extremely fascinated by [marriage]. I want to study marriage. I want to learn about it. I want to know it. I want to figure out whether or not I want to do it. I'm not just going to leap into it, because that's not good for anybody."
We're sure there are plenty of people willing to be your test subjects, Adam.