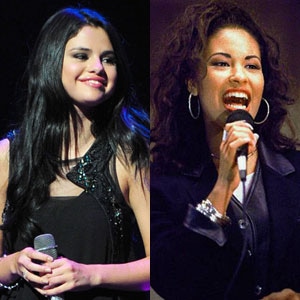 Albert Michael/startraksphoto.com/AP
Since Tupac Shakur's hologram performance, it seems like anything is possible when it comes to the music world!
Selena Gomez is the latest singer who's getting a chance to work with a beloved (and no longer with us) music star—the original Selena herself...
Gomez is one of the stars who recorded a song on Enamorada De Ti, a new tribute album honoring the late Latin songstress.
"She did an amazing job," Selena's brother, A.B. Quintanilla, told E! of Gomez at today's Billboard Latin Music Awards in Miami. "I had the opportunity to talk to her, we did some awards together and I had never met her before in person. And I took the opportunity to go say hello to her. And I want to thank her for coming onto the album."
"She was named after my sister," Quintanilla continued. "That's pretty awesome. Selena with Selena. We want to thank all the Selena Gomez fans that have actually, they've been really, really at it just spreading the word. Hard core fans."
He added of Gomez, "Selena, this message is to you. I didn't get to work with you but I'm going to work with you on your Spanish album. You better call me!"
Gomez recently talked to JustJared.com about working on the duets album.
"I was completely honored when they asked me to be on the tribute CD and when I went into the studio to record they actually had her vocals in the booth that she was in, so I felt like she was singing right next to me," she said. "It gave me chills! It was incredible and it was a great experience and it was a great song."