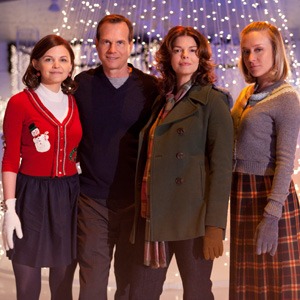 HBO/Isabella Vosmikova
Stop the presses! There's going to be a sex-crazed crazy person on FX's hit family drama American Horror Story?! What will the Parents Television Council say?
Oh right. Probably nothing. 'Cause that is nowhere near the most offensive thing that's happened on this not-for-the-kiddos series.
And yet, we are so intrigued by the news that a certain Big Love star is being cast as "Shelly the Nymphomaniac." So who is it?
The craziest sister wife of them all: Chloe Sevigny!
A source confirms she is close to signing a season-two deal to play Shelly, who will be at odds with Jessica Lange's new character who will be running an asylum for the clinically insane on the east coast. Remember, Jessica is not Constance (of season one), y'all! This is an anthology series and season two will be all new characters set in a whole new world.
Also set to appear in season two: Zachary Quinto, Adam Levine, Lily Rabe, Evan Peters and Sarah Paulson.
This news was first reported by EW.
And not that you didn't already see the writing on the wall (hint: Adam Levine and "nymphomaniac") but Ryan Murphy tells us this season will be "sexy."