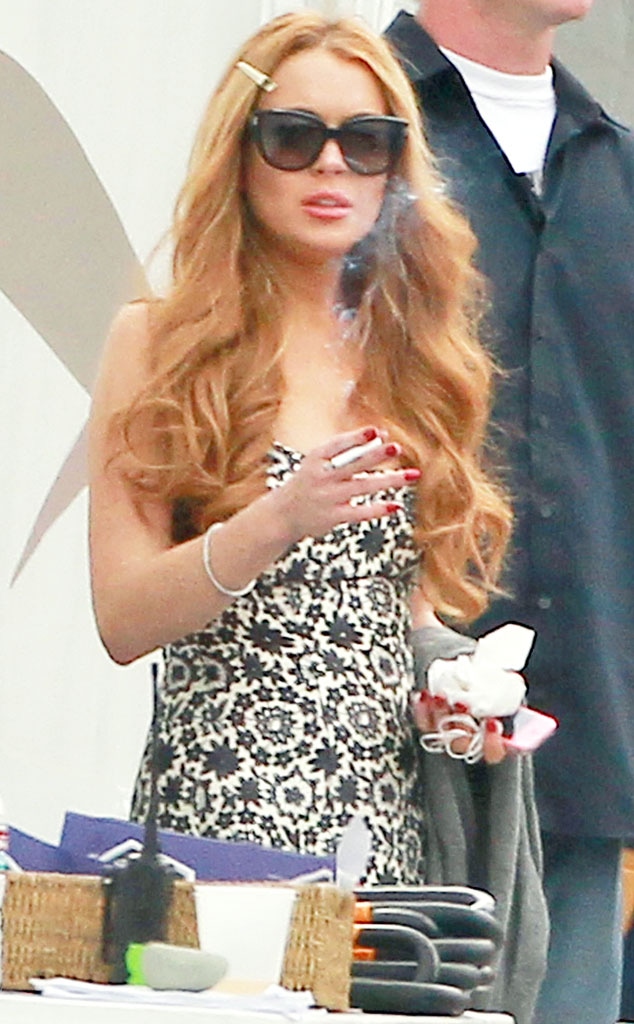 Miguel Aguilar/Sam Sharma, PacificCoastNews.com
Lindsay Lohan's second day on the Glee set probably won't go down as her finest hour.
Sources on set have given us exclusive details of Lindsay's guest appearance yesterday, including that the troubled actress was indeed "incredibly late," and production had to send a car to the Chateau Marmont hotel in Hollywood to pick her up and bring her to set.
So what does Lindsay's rep have to say? And what nickname has she picked up on set?
"Lindsay was a total nightmare yesterday," says one (clearly less than thrilled) source on the Glee set. "She was three hours late in the morning, and when she did finally arrive, she just didn't want to be there. She did not want to work. She had not memorized her lines, and she kept disappearing so no one could find her."
A highly placed Glee source tells us that Lindsay's lengthy scene last week went "really great, she was so professional and it looked like everything was going to go so well."
Yesterday, however, although she didn't have many lines, L.L.'s tardiness did irk some members of the cast and crew, who showed up at least three hours prior. We are told that some staffers on set were so less than thrilled by Lindsay's antics, they have given her the nickname "That Girl," adding, "She has rubbed them all up the wrong way by being so disrespectful of everyone else's schedule."
Dot Marie Jones, who plays Coach Bieste, tweeted out (and later deleted): "Gonna be a long day!! Some ppl show up late and just throw a wrench in things. Not cool! I'd rather be an hour early (I was) than 5 minutes late."
Lindsay (along with guest celebrity judges Rex Lee and Perez Hilton) was shooting the big "Nationals" competition, for the Glee episode that will air May 15 on Fox. They were doing reaction shots of Lindsay and the other audience members yesterday. She is playing herself.
Lindsay's spokesman Steve Honig insists she was late yesterday because of a "misunderstanding" about her call time, and tells us: "The production team came to us and said that they wanted to start [with Lindsay] right after lunch, which was at 2. They wanted to begin with Lindsay at 3, so that meant she had a lot of time where she wasn't doing anything. That's why people didn't see her. She was then in hair and makeup and began after lunch at 3."
He adds: "If there was a problem yesterday, I would have just said 'no comment,' however I can't ignore this because this is utter B.S. This is a classic example of people trying to bash Lindsay. She busted her ass yesterday and is back on set again today."
A well-placed Glee source tells us that despite the tardiness issues yesterday, "Everyone on Glee is still rooting for Lindsay. We had made a few jokes at her expense earlier in the show, and we really do want her to be able to succeed."
Lindsay is on the Glee set today finishing up her guest spot.