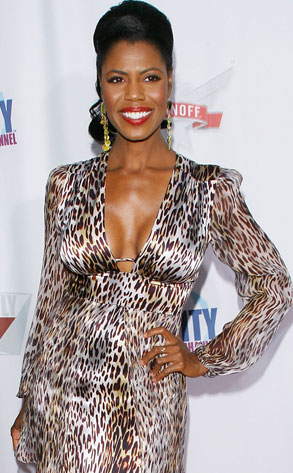 Michael Tran / Getty Images
We simply cannot believe we did it. We found an H'wood event that Heidi and Spencer were not at. We joined the skank parade at Avalon for Fox's the Really Awards—for the best in Reality Shows (best being a relative term). Ya think this woulda been perfect for Speidi or any other Hills people, but nope. We're taking their absence as an admission that they know their show isn't really reality.
Other notably absent personalities: Tori Spelling and her hub-unit, Dean, Tila Tequila and not one single American Idol judge. Do they think they're really better than the rest of the members of their TV genre? If you're gonna get rich off your guilty-pleasure programming, then stand by it.
We spoke to The Apprentice antagonist Omarosa Manigault-Stallworth—but you prolly just know her from her first name and her badass 'tude. Babe was up for Best Villain, but she wasn't really feeling it. Not 'cause she doesn't agree—villain just wasn't strong enough a word for her.
"They need a new category, like the Most Vindictive, Shallow Bitch category," sassed Oma. You wouldn't mind getting nominated for that? "I'd get a lifetime achievement award for that one." What's the skankiest thing ya ever saw on TV, babe? "I saw this show called Paradise Hotel 2, the girl slept with like seven guys. Or that Tila Tequila, she slept with a whole bunch of girls, a whole bunch of guys and some...I didn't know if they were a man or a woman. A little mix."
So we guess competition dating shows are not your next step in reality TV, huh? Gal looked at us like we were loopy: "I'm gonna stick with the business shows with billionaires." Snob!
Oh, by the boob-tube by, also queried Extreme Makeover's Dr. Bill Dorfman about the trashiest thing he's ever seen on the little screen, and his answer might be enlightening for ya, Om: "The trashiest thing I've ever seen is the way Omarosa treated Piers Morgan from America's Got Talent [on the] last season of Celebrity Apprentice...It was just horrible." Dr. B then took a quick look to his left and said, "Oh my god, she's right there!" Where's a damn reality camera when you need one?
—Additional sass by Becky Bain