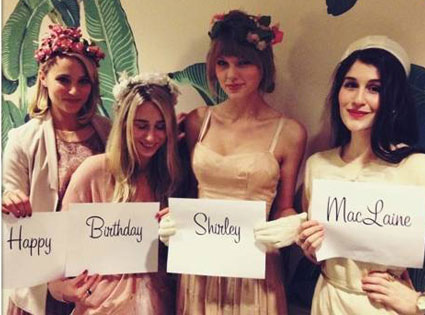 instagr.am
It's time to play dress up, y'all!
Blond cuties Taylor Swift and Dianna Agron got together with some of their girlfriends and had a little celebration in honor of Oscar winner Shirley MacLaine's 78th birthday. Sound random? It kinda is, but hey, do you really need a legit reason to put on some cool threads?
Didn't think so.
And Agron totally supports that idea and urges her Twitter followers to do the same, "Had a long day & don't know what to celebrate later...? Because you need a moment to be young? Find your moments…"
"We dressed up full-time fancy and went out in celebration of Shirley MacLaine's birthday," Swift tweeted today.
The four ladies got dolled up in some vintage gowns, accessorized with flower hats and gloves, for dinner at the Beverly Hotel's Polo Lounge.
MacLaine—who costarred with Swift in Valentine's Day—was not in attendance, but the girls still ordered dessert with "Happy Birthday, Shirley MacLaine" on it in her honor.
And we're sure they thought of her with every bite.