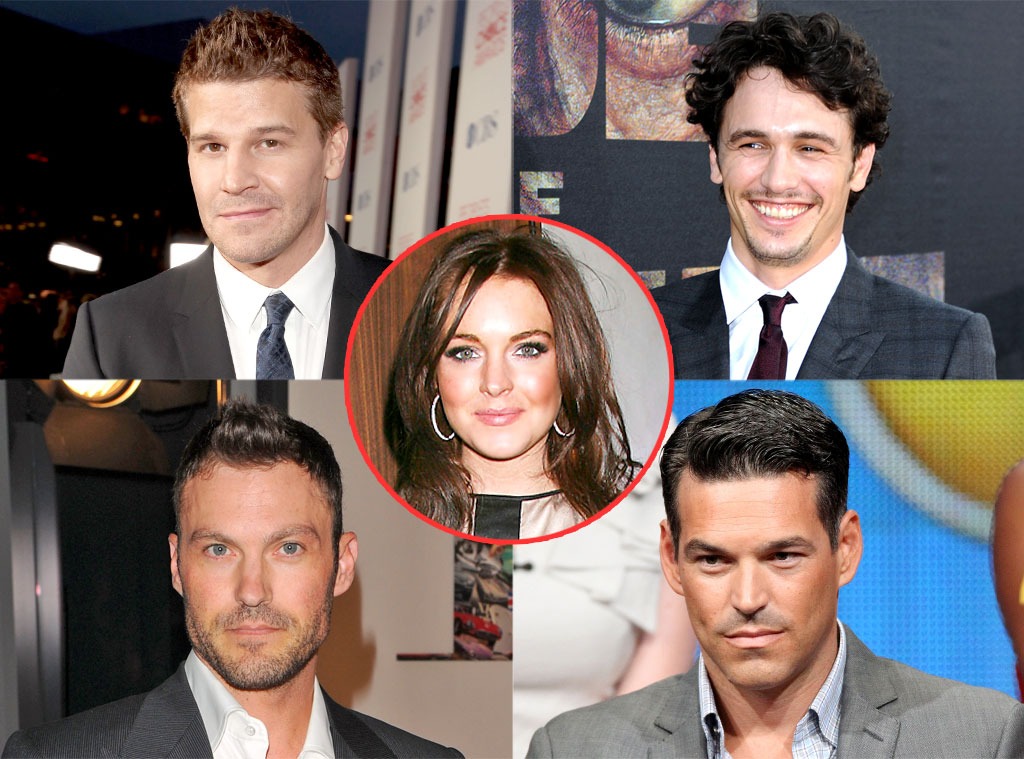 Getty Images; AP Photo
Whether you love her or hate her, there's no denying, Lindsay Lohan will indeed be playing Elizabeth Taylor on the boob tube—filming for the Lifetime movie Liz & Dick is set to begin June 4.
But this isn't a film based on the entire life of Elizabeth Taylor—the movie chronicles Elizabeth's fiery marriage to Richard Burton, her fourth (and fifth) husband whom she met on the set of Cleopatra in 1963.
So now that one-half of the casting couch is complete, who's the guy that's worthy enough to make the "marriage of the century" come alive?
"Right now the challenge is to find Richard Burton," the film's executive producer exclusively revealed to E! News.
Piece o' cake, Mr. Producer Man!
Now, if we could pick anyone in Hollywood, our top choice would definitely be Colin Farrell. Elizabeth was not only close friends with the sexy actor, but she once told Harper's Bazaar before her passing, "I love Johnny Depp, and I love Colin Farrell—both brilliant, nuanced actors with great range."
But since we highly doubt Colin (or Johnny) would be down for the Lifetime flick, we've got a few other rugged actors who we think can step up to the boob-tube challenge:
Eddie Cibrian: We love the idea of the scandalous Cibrian playing alongside Lindsay Lohan. Not only does he have the Lifetime-movie cred (he starred in Northern Lights in 2009), but he also met current wife LeAnn Rimes on the set of Northern. Oh, and they were both married at the time. Sound familiar? Well, it should, because both Elizabeth and Richard were married to other people when they met on the set of Cleopatra and their affair was a huge public scandal. Like Richard, Eddie's well aware of what it's like to have an illicit romance play out in the public eye. Only problem? We highly doubt LeAnn would approve…
Brian Austin Green: Brian's about to embark on baby-daddy duty, so now's the perfect time to get back in the Biz and make some extra moolah! B.A.G.'s acting chops are totally suitable for a Lifetime flick and he has that roughed-up, manly look down to a T. The best part? If Megan Fox is producer Larry Thompson's "Plan B," then the flick's got the best insurance possible by casting Brian as Dick. Genius.
David Boreanaz: If Bones taught us anything, it's that David can pull off the tough-guy schtick while still showing off his softer side. And since that fits perfectly with Lindsay's "vulnerability," we think the two could have some serious on-set chemistry. What's more? David's also no stranger to scandal. He 'fessed up to cheating on his wife back in 2010 and he's also said there are "fantastic" and "extremely rocky" moments in any relationship. Channel that real-life romantic experience into the role and David has amazing potential as Elizabeth's love.
James Franco: OK, so he's not the most likely candidate for a Lifetime movie, but you never know what project Franco's going to pull next, so he actually might do it. He does soaps, remember. Also, the best part about J.F. as Dick? He's got the hot-mess factor down much better than the other three could ever hope to attempt. Dude's known for some rather questionable behavior, and it's no secret Elizabeth and Richard had an affinity for luxury, drama, loud sex and living, all fueled by a sea of expensive booze. Franco's also the most talented (Richard himself was nominated for seven Academy Awards), and there's something about him that would just work so well with LiLo. Don't you agree?
So there ya have it, Awful readers, our dream dude to play Dick plus four other fabulous suggestions. It's the role of a Lifetime and big shoes to fill, so what say you?
Who do you think should play Richard Burton opposite Lindsay Lohan in the Lifetime movie Liz & Dick?